Spookley and friends in "Be Thankful – Be Grateful"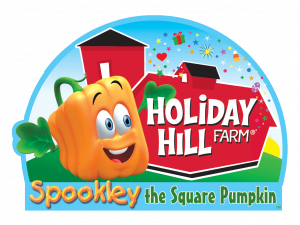 Holiday Hill Farm logo with Spookley
Spookley's Newest Animated Music Video, "Be Thankful – Be Grateful" to Premier on Disney Junior, DisneyNOW and YouTube
We hear from fans year-round clamoring for more Spookley and we are thrilled to support their continued engagement beyond the Halloween season."
— Aaron Burakoff, Head of Partnerships at Holiday Hill Farm
WILTON, CT, UNITED STATES, November 1, 2023 /EINPresswire.com/ — "Spookley Season" isn't only for Halloween! After a busy October of product launches and hundreds of Halloween-themed events across the country, Spookley the Square Pumpkin is far from done glowing. Holiday Hill Farm – home of the beloved holiday icon – has just announced new content launches and events for fans to continue to engage with their favorite cubic gourd throughout the entire winter holiday season.
Up first, Spookley will star in a new animated music video, "Be Thankful – Be Grateful" debuting on Disney Junior, DisneyNOW and YouTube on November 7. Produced by the creative team behind the Spookley animated movies, the video features a new song from author/creator Joe Troiano in which Spookley and his friends sing about the many things to be thankful for every day of the year. It complements Holiday Hill Farm's 2012 book, "Spookley the Square Pumpkin, a Family to Be Thankful For," which is consistently ranked in Amazon's top 100 Thanksgiving books for children. With hundreds of ratings averaging 4.8 out of 5 stars, parents have said the book is "…a wonderful book to teach kids how to be thankful…" and "…is absolutely the cutest book ever," among many other positive reviews.
Later this month, Holiday Hill Farm's newest book, "Spookley and the Christmas Kittens" will hit shelves exclusively at Barnes & Noble (SRP $9.95). This book tells the story, in verse, of the 45-minute animated holiday special, "Spookley and the Christmas Kittens," that airs annually on Disney Junior and Netflix. It features beautiful illustrations from the animated special and delivers a heartwarming message about the power of kindness and friendship during the holiday season.
To celebrate these launches and continue to spread kindness and joy, Spookley will make numerous appearances at events across the country throughout November and December. Spookley will continue his appearances at Sesame Place Philadelphia's "Halloween Spooktacular" through November 5 before making his first visit to the Mall of America (MoA) in Bloomington, Minnesota in the days leading up to Thanksgiving. Spookley will also greet fans at Barnes & Noble locations and schools across the country and participate in Autism Speaks Walks in Austin, Los Angeles and Miami.
"We hear from fans year-round clamoring for more Spookley and we are thrilled to support their continued engagement beyond the Halloween season," says Aaron Burakoff, Head of Partnerships at Holiday Hill Farm. "We are excited to carry Spookley's momentum into the Thanksgiving and Christmas holidays with new content that reinforces Spookley's message of kindness."
This past Halloween season was Spookley's biggest one yet. Not only was he a participant in hundreds of events across the country, but a new book and music video were released, as well as a new line of Spookley plush by GUND and a new Spookley Tonie figurine that sold out of its initial production run within two weeks of launch. Spookley also appeared on shelves for the first time at Target and secured new consumer products licensees to be announced in the upcoming months.
The star of the Holiday Hill Farm book series and animated and live-action puppet shows that millions around the world have seen on Disney Junior, Netflix and YouTube, Spookley is a perennial fixture in classrooms and at fall harvest festivals around the world. Spookley lives on Holiday Hill Farm, a world of storytelling magic where "Every Day is a Holiday" and where Spookley and his friends celebrate what makes every day – and every one – special throughout the entire year.
For more information about Spookley the Square Pumpkin and Holiday Hill Farm, please visit the official Spookley website (spookley.com) and follow Spookley on Facebook (facebook.com/Spookley/) and Instagram (@spookleythesquarepumpkin).
Dan Grody
Tellem Grody PR
+1 310-313-3444 ext. 3
[email protected]


Originally published at https://www.einpresswire.com/article/665434234/spookley-the-square-pumpkin-extends-spookley-season-with-new-content-and-events