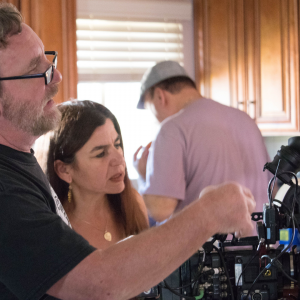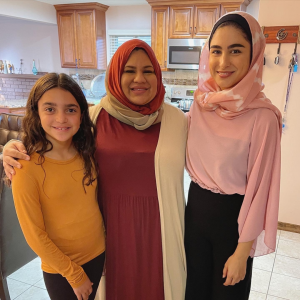 Actors Jordyn Kashat, Zain Shami, and Samya Rahmani on the set of Pomegranate
Zain Shami and Amanda Kashat on the set of Pomegranate
Birsamunda International Film Awards honors the feature film Pomegranate with a "Best Feature Film on Women"
We are honored to receive this award and we hope that the film Pomegranate will continue to shine a light on the authentic experiences of this often-marginalized community."
— Weam Namou
STERLING HEIGHTS, MICHIGAN, UNITED STATES, September 6, 2023/EINPresswire.com/ — We are delighted to announce that Pomegranate, the groundbreaking Iraqi American narrative film, has been honored with "Best Feature Film on Women" by the renowned Birsamunda International Film Awards (India).
Pomegranate is the first-ever Iraqi American narrative film led by a creative team from the community it portrays. This includes an incredibly talented female writer/director and an exceptional cast of actors. The film has been making waves on the festival circuit and we are thrilled that it has been recognized with this prestigious award.
The film is a searing and intimate portrait of a family of Iraqi refugees struggling to rebuild their lives in America. The film follows Niran, the main character, as she tries to find her footing in an American city nicknamed "Little Baghdad" while grappling with the life she left behind. It is a powerful and timely film that offers a rare glimpse into the lives of Iraqi Americans.
Director/Writer Weam Namou worked together in association with legendary Hollywood Executive Producer, Scott Rosenfelt, Hollywood veteran Sam Sako, and Buffalo 8 Productions (Santa Monica, CA) to produce the movie. Pomegranate, the novel, was released in February 2021 and it's available in print, eBook, and audiobook. Also take a look at Trailer #2!
In addition to the prestigious Birsamunda International Film Awards (India), Pomegranate has also been recognized with the following awards / nominations / selections:
* New York International Women Festival – Winner of all Categories for Best Feature Film Directed by a Woman
* La Femme Independent Film Festival (Paris, France)
– Best Feature Film in English
– Best Original Feature Script
– Outstanding Supporting Actress
* Birsamunda International Film Awards (India)- Winner for Best Actress – Samya Rahmani
* Castle Film & Media Award (Rome, Italy) (Official Selection)
* Santa Barbara International Movie Awards (Nominee)
* San Diego International Film Awards (Semi-Finalist)
* San Jose Independent Film Festival (Semi-Finalist)
* St. Louis Film Awards (Semi-Finalist)
* Prague Underground Film Festival (Semi-Finalist)
* Vancouver Independent MovieMakers Award (Semi-Finalist)
For interviews with the writer / director, Weam Namou, contact:
Tracy Lamourie
LAMOURIE MEDIA
Toronto : 289-788-5881
Beverly Hills : 424-444-8052
Europe / Mediterranean 356 9939 0971
Email : [email protected]
Weam Namou
Namou Productions
email us here
Visit us on social media:
Facebook
Twitter
LinkedIn
Instagram
YouTube
TikTok
Pomegranate Official Trailer


Originally published at https://www.einpresswire.com/article/654013637/pomegranate-wins-best-feature-film-on-women-at-birsamunda-international-film-awards