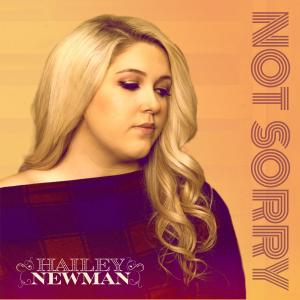 Hailey is doing exactly what she should be doing with her songwriting and vocal performance…stretching her capabilities and pushing toward a mature young adult female point of view."
— Jennifer McGill, PCG Artist Development President
PRESTONSBURG, KY, UNITED STATES, June 28, 2023/EINPresswire.com/ — Hailey Newman is changing, evolving, and growing up. So is her music. And she's not sorry.
"Not Sorry" is not-so-coincidentally also the name of her new single, available now on digital platforms.
"Not Sorry" is a fresh direction for Hailey. The song, co-written with Andrew Kirk, is three minutes and eight seconds of memorable hooks, punctuated by sweeping synth runs, a driving drum cadence, and Newman's powerhouse vocals dripping with attitude and defiance.
"If you threw a bunch of Taylor Swift, Olivia Rodrigo, and Avril Lavigne downloads into a digital blender, "Not Sorry" is the tasty pop smoothie you'd wind up with," says PCG Artist Development President Jennifer McGill, a top Nashville music executive who knows a thing or two about how young artists develop into adult superstars.
McGill co-starred with Christina Aguilera, Justin Timberlake, Britney Spears, and others on the Disney Channel's "All-New Mickey Mouse Club" in the 1990s. Now she works behind the scenes helping shepherd other young artists into adulthood as one of the top Music City Mentors.
"Hailey is doing exactly what she should be doing with her songwriting and vocal performance…stretching her capabilities and pushing towards a mature young adult female point of view. It's not easy to make that transition, but it's crucial for her future success. I'm proud of her."
This new grown-up pop sensibility is miles away from the shy middle school student who surprised her hometown audience by belting out Miranda Lambert at her small-town Eastern Kentucky talent show almost a decade ago.
Hailey still calls that corner of Appalachia home. In this hard-scrabble collection of small coal mining towns connected by the famous "Country Music Highway," homegrown musicians like Chris Stapleton, Loretta Lynn, Tyler Childers, Dwight Yoakum, Keith Whitley, and Billy Ray Cyrus are all a part of the area's DNA. Hailey still possesses a strong sense of family, music, culture, and that small-town, tight-knit sense of community. But musically, she's stretching out beyond the Bluegrass State.
"Writing songs from the heart is where I've always seen myself, conveying my feelings through music. 'Not Sorry' is a very personal song about a close friend's relationship falling apart, written from her point of view. It's about how her ex always tried to manipulate and gaslight her until she'd finally had enough. It's about being done apologizing for things and finally letting go of that toxic relationship. I tried to put every ounce of what she felt into writing this song", said Newman.
"Her breakup gave the world a song that I believe can empower other people going through similar situations, so I'd like to think that something good came from something bad. I mainly want people who hear 'Not Sorry' to know that their feelings are valid. They're legit. They matter. And they aren't alone. Just hang in there, be strong, and know there is always a light at the end of every dark tunnel. My music can be that light for them."
About Hailey Newman:
Prolific Eastern Kentucky singer-songwriter Hailey Newman began releasing original music in 2020 and has yet to show any signs of slowing down. She has collaborated on several tracks with top Nashville songwriters, including Drew Womack (Kenny Chesney, Tim McGraw, Rascal Flatts), Doug Kahan (Trick Pony, Clay Walker), and Holly Lamar (Jo Dee Messina, Faith Hill, Wynonna Judd).
Hailey is the recipient of "Best Pop Artist" at the 2023 Appalachian Music Awards and "Best In The Mountains" from Mountain Top Media and is nominated for Songwriter of the Year, Social Impact Song of the Year, Music Video of the Year, and Songwriter Achievement at this year's Josie Awards October 22nd at the Grand Ole Opry.
Burke Allen/ Shaili Priya
Allen Media Strategies
+1 703-589-8960
[email protected]
Visit us on social media:
Facebook
Twitter
LinkedIn


Originally published at https://www.einpresswire.com/article/640953811/singer-songwriter-hailey-newman-debuts-a-new-sound-for-summer-2023-and-she-s-not-sorry