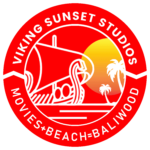 Viking Sunset Studios Showcases its studio and Bali's Stunning Film Locations at the American Film Market
SANTA MONICA, CALIFORNIA, USA, November 2, 2023 /EINPresswire.com/ — Viking Sunset Studios, the esteemed Bali film production company, is bringing the mesmerizing allure of Bali's fantastic landscapes to the forefront at the American Film Market in Santa Monica this week. Situated on the captivating beachfront with year-round breathtaking sunsets, Viking Sunset Studios invites filmmakers worldwide to explore the cinematic wonders of Bali.
Bali, renowned for its picturesque settings, serves as the backdrop for Viking Sunset Studios' creative ventures, featuring a raging river, a cliff embracing the ocean with a majestic temple perched on top, a mysterious cave, a towering volcano, and lush rice terraces. A one-hectare backlot seamlessly leads to the ocean, offering an unparalleled canvas for crafting extraordinary cinematic experiences.
The gorgeous one hectare beachfront backlot sits in the majestic Tabanan area close to the famous Tanah Lot temple. Headquartered in the heart of Bali in Sanur, Viking Sunset Studios offices are nestled amidst luxury hotels and beachfront restaurants. The fully-equipped headquarters house professional film equipment, including the state-of-the-art ARRI mini LF camera, a green screen, a soundproof enclosed studio, and high-powered editing tools for seamless post-production. Beyond the studio walls, a jumbotron broadcasts Sunset commercials and social media content to the world, showcasing the studio's creative prowess.
Viking Sunset Studios' dedicated team is engaged in an array of projects, ranging from groundbreaking VFX endeavors to compelling documentaries and action-packed feature films. The studio has submitted documentaries to prestigious film festivals such as Cannes Film Festival and the Venice Biennale, earning recognition for their innovative storytelling.
In a bold move to support aspiring filmmakers, Viking Sunset Studios has established a one billion rupiah fund to elevate Indonesian film projects to international standards. Collaborating closely with the Indonesian Tourism Ministry, Viking Sunset Studios aims to spotlight Bali's beauty and allure. For a statement from the Minister of Tourism endorsing this initiative, please click https://drive.google.com/file/d/1CGiisPUk9pTNRNnBX17QDEy3IeBtZ_UN/view?usp=drivesdk
"The beauty of Bali will inspire any film crew to create the most scenic and amazing movies," remarked Bo H. Holmgreen, owner, and CEO of Viking Sunset Studios. With a mission to simplify professional film production in the world's most beautiful island, Viking Sunset Studios provides unparalleled facilities for both stars and film crews, ensuring an exceptional filmmaking experience.
Viking Sunset Studios with its partner BaerFX Studios in Santa Monica, invites industry professionals and enthusiasts to meet them at the American Film Market and discover the endless possibilities that Bali offers for cinematic excellence.
Contact: [email protected]
### About Viking Sunset Studios:
Viking Sunset Studios is a leading film production company with a passion for storytelling and a commitment to pushing the boundaries of cinematic creativity. Based in Bali, Indonesia, and North Carolina, USA, Viking Sunset Studios specializes in producing captivating films, documentaries, and visual effects projects. With a focus on promoting the scenic beauty of Bali, the studio actively supports aspiring filmmakers and aims to inspire the global film community.
Turid Kaehny
VSS
+1 919-454-7599
email us here
Visit us on social media:
Facebook
LinkedIn
Instagram
TikTok


Originally published at https://www.einpresswire.com/article/665678328/viking-sunset-studios-showcases-its-studio-and-bali-s-stunning-film-locations-at-the-american-film-market