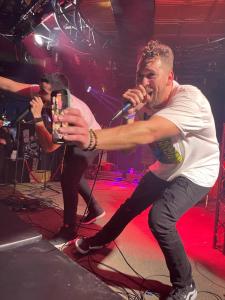 This article introduces Brian Frazier into the music industry with his newest single "Vacation Friends"
CHICAGO , ILLINOIS, UNITED STATES, August 27, 2023/EINPresswire.com/ — In the ever-evolving landscape of the music industry, artists like Brian Frazier stand out not only for their creative talents but also for their journey of growth and maturation. Formerly known as the "kid fraze," Brian Frazier has been making waves in the music scene, capturing hearts with his distinctive sound and relatable lyrics. Over the years, Frazier has transformed both as an individual and as a musician, and his recent endeavors reflect this transformative journey.
After spending an entire year in the studio, Brian Frazier is back with a bang, ready to redefine his sound and captivate audiences once again. His music journey, which started with youthful exuberance, has now matured into a refined and balanced artistic expression. Frazier's earlier hits like "Bombshell" and "Sleep In My Shirt" have left an indelible mark on listeners, and his latest offering, "Vacation Friends," pays homage to that classic and feel-good "Fraze vibe" that fans have come to adore. However, there's more to his upcoming releases than just nostalgia.
Listen to "Vacation Friends" on Spotify HERE
As he steps into a new chapter of life, on the brink of marriage, Brian Frazier's music has evolved to mirror his personal growth. The new tracks he has in the pipeline, such as "F*ck the 2nd Floor," "No Reservations," and "Layback," promise a cooler and stripped-down vibe that aligns with the current stage of his life. These songs offer a unique blend of lyricism and sound, showcasing his ability to strike a balance between his roles as a soon-to-be spouse and a dedicated entertainer.
Brian Frazier's journey is not just about music; it's also about his presence in the digital realm. To stay connected with his ever-growing fan base, Frazier can be found on various social media platforms. His TikTok account, @FrazeHasFun, is a hub for entertaining and engaging content that offers fans a peek into his life and creative process. For those who prefer visual storytelling, his Instagram handle, @itsbfraze, provides a curated insight into his daily life and artistic endeavors. Additionally, fans can stay up to date with his latest releases and updates on his Facebook page, facebook.com/brianfraziermusic.
Born on August 27, 1989, in Highland Park, IL, Brian Frazier's music journey has transcended time and boundaries. His unique blend of pop and hip-hop elements sets him apart within the music industry, carving a niche that's uniquely his own. As he continues to evolve and grow both personally and artistically, Frazier's music serves as a reflection of the multi-faceted individual he has become.
In a world where change is constant and evolution is necessary, Brian Frazier embraces transformation with open arms. His journey from "kid fraze" to the artist he is today is a testament to the power of growth and the unending pursuit of artistic excellence. With his upcoming releases promising a fusion of emotion, experience, and sound, Frazier's music is poised to capture hearts, inspire change, and leave an enduring impact on the musical landscape.
Brian Frazier
email us here
Brian Frazier Music
Visit us on social media:
Facebook
Instagram
"Vacation Friends" On YouTube


Originally published at https://www.einpresswire.com/article/652255366/up-and-coming-artist-brian-frazier-releases-his-first-single-under-a-new-name