French Montana latest video 'Good Summer' with a special appearance from wrestling sensation Jade Cargill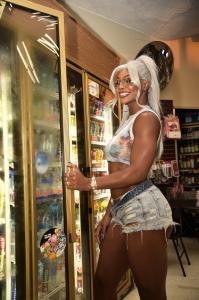 Jade Cargill radiates joy on set with French Montana for the filming of his hit music video, 'Good Summer.
Jade Cargill and French Montana share a creative spark, setting the perfect vibe for the 'Good Summer' movement.
SUMMER JUST GOT HOTTER AS FRENCH MONTANA TAKES THE SPOTLIGHT WITH HIS INFECTIOUS NEW SINGLE, "GOOD SUMMER," JUST IN TIME TO CELEBRATE HIP HOP'S 50TH BIRTHDAY
LOS ANGELES, CA, UNITED STATES, August 9, 2023/EINPresswire.com/ — French Montana enlisted the talents of the one and only Jade Cargill, the former AEW TBS Champion, to set the summer on fire with her debut appearance in the Good Summer music video, directed by the celebrated music video director, Rook. The highly anticipated track, set to be released on all streaming platforms on Friday, August 11, 2023, promises to be the ultimate anthem for the season, filled with feel-good vibes and memorable beats that will have you dancing all summer long. This groundbreaking release coincides with the celebration of Hip Hop's 50th Birthday, adding even more significance to the summer spectacle.
In a surprising and exhilarating collaboration, Jade Cargill took center stage as the lead actress in French Montana's scorching hot video. Known as one of wrestling's shining stars, Jade took a well-deserved break this summer after an unforgettable career match, spending precious moments with her family. Embracing a brand new role, her powerful presence and magnetic charisma have brought a whole new dimension to the video, ensuring fans are in for a treat with her transformative performance.
For Jade, accustomed to playing the villain in the wrestling ring week after week, this was an exhilarating change of pace. In the Good Summer video, she let her hair down and immersed herself fully in the moment, sharing the screen with French Montana and a talented cast of performers to create a spectacular Good Summer movement. Directed by Rook, known for his innovative visual storytelling, the video promises to be a captivating cinematic experience that embodies the spirit of summer.
The Good Summer video exudes a vibrant and soulful New Orleans vibe. Dancers prance and twerk, embracing the infectious rhythms of the song, creating a captivating spectacle that perfectly complements the track's upbeat and energetic vibe.
To make the release even more special, the Good Summer video is scheduled to hit the screens on the momentous day when Hip Hop celebrates its 50th Birthday. It's a testament to French Montana's commitment to the genre and his dedication to delivering memorable music to his fans, with Rook's artistic vision bringing it all to life.
So, mark your calendars and get ready to embark on a scintillating journey with French Montana and Jade Cargill as they ignite the Good Summer movement. The video, brought to the screen by Rook's unique and engaging direction, will undoubtedly leave you feeling invigorated, inspired, and yearning for more.
For BTS Photos click on this LINK
For a sneak preview of Good Summer CLICK HERE
Get ready to experience the magic of Good Summer as French Montana continues to tell compelling stories through his music, and Jade Cargill shines brightly in her new role as a lead actress. This collaboration, enhanced by Rook's creative touch, is a match made in musical heaven, and you won't want to miss it!
For updates and the latest news, follow French Montana and Jade Cargill on their social media platforms. Be sure to stay tuned for the official Good Summer video release, and let the celebration of Hip Hop's 50th Birthday kick off with an electrifying start!
About French Montana:

French Montana is a globally acclaimed rapper and songwriter known for his distinctive style and chart-topping hits. French is a certified Diamond Artist as well as the most streamed African Born artist. With numerous accolades to his name, he continues to make waves in the music industry, delighting fans with his unparalleled talent and passion for music.
About Jade Cargill:

Jade Cargill is a rising star in the world of professional wrestling, leaving an indelible mark with her powerful performances. With her debut appearance in French Montana's "Good Summer" video, Jade showcases her versatility and star power as she ventures into new artistic territory. Professional wrestler in All Elite Wrestling (AEW), she has skyrocketed to stardom, holding the prestigious AEW TBS Championship with an impressive record of 60-1. Jade's remarkable achievements highlight her unmatched strength, agility, and unwavering determination. Moreover, her journey serves as an inspiration to women everywhere, demonstrating that they can pursue their dreams while embracing the joys of motherhood. Jade Cargill continues to break barriers in the male-dominated industry of professional wrestling, leaving an indelible mark on fans worldwide.
Leslie Gay
Leslie Gay and Associates
+1 9097547622
email us here
Visit us on social media:
Twitter
Instagram
YouTube
Sneak peak of 'Good Summer"


Originally published at https://www.einpresswire.com/article/648956668/summer-ignited-french-montana-aew-s-jade-cargill-unite-for-good-summer-movement