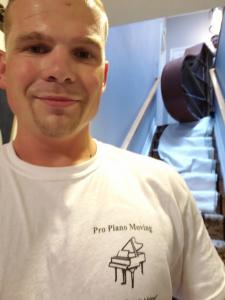 Pro Piano Moving Expands to Serve Greater Denver Metro & North Denver: Elevating Piano Moving Expertise
We are thrilled to extend our professional piano moving services to the Greater Denver Metro and North Denver regions. "
— Iurii Grebeniuk
DENVER, COLORADO, UNITED STATES, October 30, 2023 /EINPresswire.com/ — Pro Piano Moving, the premier Denver piano moving and transportation experts is excited to announce the expansion of their services to cover the Greater Denver Metro area and North Denver. This expansion is part of the company's commitment to providing top-notch piano moving solutions to a wider clientele.
Iurii Grebeniuk, Owner of Pro Piano Moving, expressed his enthusiasm, saying, "We are thrilled to extend our professional piano moving services to the Greater Denver Metro and North Denver regions. Pianos hold immense sentimental and artistic value, and our mission is to ensure their safe and secure relocation. Our team's expertise and dedication have made us a trusted name in the industry, and we look forward to serving an even wider audience."
Pianos, with their delicate mechanisms and hefty weight, demand specialized handling during transportation. Whether it's a cherished family heirloom, a professional musician's instrument, or a valuable addition to an institution, Pro Piano Moving ensures the safe and secure relocation of these musical treasures.
The expansion to the Greater Denver Metro and North Denver areas comes in response to the growing demand for professional piano moving services. Customers in these areas can now benefit from Pro Piano Moving's expertise and dedication to safeguarding their pianos during every step of the moving process.
Pro Piano Moving has earned a reputation for its commitment to excellence. Their team of skilled technicians is trained to handle various piano types, from uprights to grand pianos, ensuring that each instrument is treated with the utmost care. They utilize state-of-the-art equipment, including piano skids, ramps, and secure harnesses, to guarantee safe transportation.
What sets Pro Piano Moving apart is not just their technical proficiency but also their dedication to customer satisfaction. They understand that a piano is not just a musical instrument; it's a piece of art and a sentimental treasure. That's why they go the extra mile to ensure that each piano arrives at its destination in pristine condition.
The expansion into the Greater Denver Metro and North Denver areas aligns with Pro Piano Moving's vision of making professional piano moving services accessible to more people. They are excited to serve a wider community of piano enthusiasts and provide the peace of mind that comes with knowing their prized instruments are in capable hands.
Pro Piano Moving invites residents and businesses in the Greater Denver Metro and North Denver areas to experience their exceptional piano moving services. Their commitment to excellence and customer satisfaction remains unwavering as they embark on this exciting new phase of growth. Clients can book a piano moving appointment online at https://propianomover.com or on the Pro Piano Business Page.
For more information about Pro Piano Moving and their expanded services, please visit their website at https://propianomover.com or contact them at [email protected].
Jerry Green
Pro Piano Mover
+1 720-771-4647
email us here
Moving A Piano in Denver
Originally published at https://www.einpresswire.com/article/665194943/pro-piano-moving-expands-services-to-serve-greater-denver-metro-and-north-denver