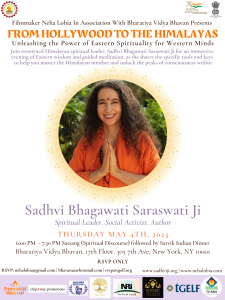 From Hollywood to The Himalayas: Unleashing the Power of Eastern Spirituality for Western Minds with Sadhvi Ji
NEW YORK, NY, UNITED STATES, May 1, 2023/EINPresswire.com/ — Filmmaker Neha Lohia will be presenting an event "Hollywood to The Himalayas featuring Sadhvi Bhagawati Saraswati Ji, Ph.D., one of the preeminent female spiritual leaders of our time, in New York City.
Join the renowned Himalayan spiritual leader, Sadhvi Bhagawati Saraswati Ji for an immersive evening of Eastern wisdom and guided meditation, as she shares the specific tools and keys to help you master the Himalayan mindset and unlock the peaks of consciousness within.
"Be in the marketplace, but not of it! As a woman, I endeavor to consciously bring a bit of heart-centered Himalayan Consciousness into all my work. It is a blessing to create this event with Sadhvi Ji here in NYC. I am so grateful to all our supporters." said Filmmaker Neha Lohia.
Sadhvi Bhagawati Saraswati Ji is originally from Hollywood, California, and residing for the last 26 years in the Himalayas at the sacred Parmarth Niketan Ashram in Rishikesh, India. Sadhviji is dedicated to a life of spiritual service, wisdom teaching, sacred action, and deep spiritual practice. She is the author of the #1 bestselling memoir, Hollywood to the Himalayas: A Journey of Healing and Transformation, which details her unconventional life journey from the glamour and glitz of the West to the spiritual depths of the East.
Born to an upper-class Jewish family and raised among the glitterati of Hollywood, Sadhviji's childhood was filled with dark secrets about sexual abuse, depression, anxiety, and bulimia. She studied at Stanford University and, received a Ph.D. in psychology. In the summer of 1996, her life unexpectedly changed forever when she reluctantly went on a trip to India with her then-husband, Sadhviji experienced an unexpected miraculous healing in the sacred Ganges River in Rishikesh where she was transformed and filled with the unshakable belief that she was destined to walk a new path in life. She gave up everything she knew and got ordained into the monastic tradition of sanyas by one of India's most revered spiritual masters.
In addition to being a renowned spiritual leader, motivational speaker, social activist, and best-selling author. Sadhviji is also a leader in the fields of environmental protection, women's empowerment, gender equality, interfaith harmony and dialogue, climate action, and more, working with the United Nations, World Bank, Religions for Peace, and many other organisations worldwide.
In these times, which can often feel overwhelming and chaotic, Sadhviji demonstrates the rare ability to translate complex spiritual concepts into an accessible and relatable language. She draws on her own life experiences and calls forth wisdom from the Hindu scriptures to offer practical guidance grounded in love, compassion, and service. Through her work and teachings, she emphasizes the potential of the human spirit to transcend even the most difficult of life circumstances to create a more just, peaceful, and loving world, and live in a more meaningful, purposeful, and fulfilling way.
At this event you have the opportunity to experience an evening of miraculous transformation and, as Sadhviji says, "Go to the Himalayas in your heart."
This evening is presented by Filmmaker Neha Lohia, for all of the Western and Eastern minds in NYC, all who are ready, to celebrate and partake of Sadhviji's wisdom and journey from Hollywood to the Himalayas, which is a testament to the power of transformation and the human spirit's resilience. This event is wholeheartedly supported by the Consulate General of India (NY), Dr. Navin Mehta (Chairman and Director of Bharatiya Vidya Bhawan), Minesh Patel, TV Asia USA, Shiv Khemka (Vice Chairman of Sun Group Global), Tirlok Malik (CEO of Apple Productions Inc), Katha Cato and Don Preston Cato (Chip away Productions), Prashant Goyal (Heritage India Fashions) and several others from the Indian-American and the New York media and entertainment communities.
To get more acquainted with Sadhvi Ji: www.sadhviji.org
To know more about Neha and her work: www.nehalohia.com
Register here for this Event: https://www.eventbrite.com/e/from-hollywood-to-the-himalayas-with-sadhvi-ji-in-nyc-tickets-627723727567
For more details on this event: [email protected] | [email protected] | [email protected]
For Media and Press inquiries: [email protected]
Neha Lohia
Neha Lohia (Filmmaker)
email us here
Visit us on social media:
Facebook
Twitter
LinkedIn
Instagram
YouTube
Other


Originally published at https://www.einpresswire.com/article/631197011/new-york-has-the-opportunity-to-go-from-hollywood-to-the-himalayas-with-sadhviji-on-may-4th-at-a-very-special-event