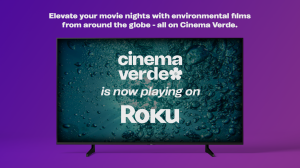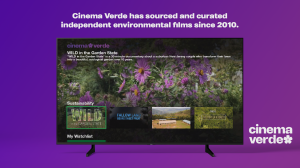 Cinema Verde has been providing environmental films since 2010
Showcase your Sustainable Business on Cinema Verde
Cinema Verde Launches A New Television Channel on Roku International Platform.
Advertisements on our channel will reach a target-rich consumer audience who place high value on eco-friendly products, services and industry leaders with green initiatives."
— Trish Riley
GAINESVILLE, FL, USA, July 12, 2023/EINPresswire.com/ — CINEMA VERDE
TRISH RILEY, DIRECTOR
+1 352 448 7262
[email protected]
Cinema Verde is thrilled to announce the launch of an informative new channel on Roku, the world's largest streaming platform! Experience the ultimate eco-cinematic journey from the comfort of your living room! Cinema Verde has gathered a large selection of films from their 14-year film festival catalog, and now this extraordinary selection of more than 200 festival films is available to you, and everyone worldwide, absolutely FREE!
This means that if you have a Roku device (about $25 at your favorite electronics store) or a Roku TV, you can tune in to watch Cinema Verde films for no additional cost. And whenever you have your TV tuned in to the Cinema Verde Channel, you will be supporting Cinema Verde filmmakers and the work to bring this information to your attention. Cinema Verde has an amazing team dedicated to bringing a wealth of valuable and informative films to citizens worldwide as they work to forge a healthier future, and public support helps to make this happen.
Click here to add Cinema Verde to your television: https://channelstore.roku.com/details/974a158bc010ada01578fa76c541056f/cinema-verde
Let Cinema Verde Showcase Your Sustainable Business
This global expansion presents a unique opportunity to reach millions of viewers in support of the mission to educate our planet. Cinema Verde seeks advertisers whose sustainable businesses and environmental organizations whose innovative work can be showcased on this televised channel – they want viewers to value an informative ad stream almost as much as their films.
"Advertisements on our channel will reach a target-rich consumer audience who place value on eco-friendly products, services and industry leaders with green initiatives. With 71.6 million active Roku accounts worldwide, this is an exceptional chance for businesses to promote sustainability efforts while supporting Cinema Verde organization's library of award-winning films," said Trish Riley, director of Cinema Verde. "By becoming an investor or sponsor, businesses will enjoy prominent exposure alongside our curated collection of environmentally focused and factually accurate films, ensuring maximum visibility and engagement.
"Where else can a business reach an international audience with multiple 20-30 second slots of air time for $250/month? And have the chance to boost your sustainability kred, and help a good and honest start up get off the ground? Nowhere! Let's work together to forge a healthier future."
Contact Riley directly to place your ad on the Cinema Verde Channel: [email protected]
Cinema Verde is a nonprofit organization with the mission to provide environmental education to diverse audiences through film, arts and community events. Cinema Verde is designated as a 501(c)(3) public charity by the IRS: Contributions may be tax deductible. Solicitation License# CH33749. Cinema Verde is funded in part by the State of Florida, Department of State, Division of Arts and Culture and by generous donations, sponsorships from sustainable businesses and organizations, private and public foundations and sustainable businesses and supporters.
Learn more about a sustainable future by connecting with Cinema Verde via Facebook, Instagram, TikTok, LinkedIn, YouTube and Twitter.
Trish Riley, Director
Cinema Verde
+1 352-448-7262
[email protected]
Visit us on social media:
Facebook
Twitter
LinkedIn
Instagram
YouTube
TikTok
Cinema Verde Television Channel


Originally published at https://www.einpresswire.com/article/643951527/new-cinema-verde-environmental-television-channel