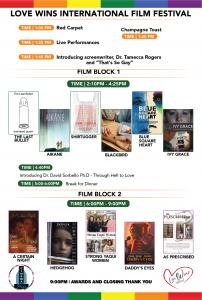 Love Wins Film Festival Schedule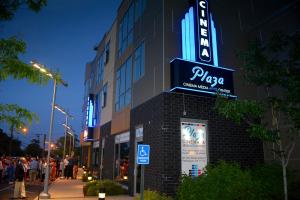 Plaza Cinema and Media Arts Center
Creating awareness for Women's Empowerment, LGBTQIA+, Diversity and Inclusion and Health and Wellness Messages
love is love is love."
— Judith Light
NEW YORK, NEW YORK, UNITED STATES, May 16, 2023/EINPresswire.com/ — The Love Wins Film Festival has announced that this year's screenings will be happening on Thursday June 22nd, at The Plaza Cinema and Media Arts Center in Patchogue, Long Island NY. There will also be a virtual option for experiencing the magic from the comfort of your own home as well, on the Love Wins Channel. Each year, the Love Wins Film Festival presents films that create awareness for subject matters deserving special attention, giving minority independent filmmakers a unique space to share their important work. This year's lineup includes films featuring themes of love, loss, family, community and resilience as well as thought provoking deeply moving stories about the struggles of everyday life.
Festival Founder Jaret Martino said "I am passionate about creating safe spaces that celebrate and amplify voices that are too often silenced. I'm proud to be a Long Island Native, in the LGBTQIA+ community and have Cherokee Indian bloodlines. The Film Festival is an exciting event that offers the chance to witness important films on the big screen, have healing conversations, and enjoy live performances, Art and Music in a beautiful Cinema that aligns with our mission of creating awareness for underrepresented Artists. See you on the Red Carpet! Despite All…Love Always Wins"
Opening Film AIKANE. As our executive producer, legendary actress and trailblazing LGBTQ advocate Judith Light says, "love is love is love." – Director: Daniel Sousa
A valiant island warrior, wounded in battle against foreign invaders, falls into a mysterious underwater world. When the octopus who rescued him transforms into a handsome young man, they become aikāne, bound by love and trust, and an epic adventure begins.
As the sequel to Kapaemhau, which won an unprecedented five Oscar-qualifying awards and was shortlisted for the 93rd Academy Awards, we are confident that Aikāne will attract a significant following.
GET TICKETS: https://filmfreeway.com/LoveWinsFestival
For full schedule of films, please visit: https://www.lovewinsproductions.net/love-wins-2023

Program lineup includes; The Last Bullet (Geoffrey Ulrich), Shirtugger (Noah Zachary, Noah Himmelstein), Blackbird (Morgan Davies), Blue Square Heart (William Venus Means), A Certain Night (Sumin Kim), Hedgehog (D.Mitry), Strong Yaqui Women (Miroslava Gonzalez), Daddy's Eyes (Drew Ann Rosenberg), As Prescribed (Holly Hardman)'
Executive Director of The Plaza Cinema and Media Arts Center Catherine Oberg remarked, "The Plaza is very proud to be able to offer our community a real treat to see such an incredible slate of diverse film subjects and to meet the filmmakers. The films are truly conversation starters and aim to address challenges in a safe space".
ABOUT THE LOVE WINS FILM FESTIVAL:

Love Wins Film Festival is looking for unique Filmmakers with powerful voices. Our mission is to help amplify the hard work of Artists who deserve attention. Stronger together. Love Wins platform has an extensive subscriber based mailing and social reach, along with a stunning venue! We value their work in creating awareness for subjects deserving attention alongside collaborations with National Organizations. Does your Film help create awareness for subjects deserving attention or are you a unique Filmmaker that deserves the spotlight? Our focus is to support and help advance Filmmakers careers. We have partnered with streaming Distribution companies and our awards will include streaming Distribution options and Marketing for the winning Films. Equally as important as connecting with industry and moving your project forward we will move the winning Films into consideration with partner Festivals that have live screening events that takes place in New York and Los Angeles and the focus is to help secure four wall Distribution for the winning Feature Film. The team behind the festival has a wide range of professional experience which includes every facet of Entertainment. Building an egoless environment with heart centered visions for human rights, LGBTQIA*, diversity and inclusion, women's empowerment is our mission. Making this not only a memorable event but an important gathering where each artist's voice is heard through their choice of expression. We celebrate and support Independent, new, and Alternative filmmakers, not just during our online competition but throughout the year through Production support, streaming Distribution relationships and marketing.
The Plaza Cinema & Media Arts Center is a non-profit, 501(c)(3), community-supported organization. Its mission is to celebrate the power and magic of film as an art form and as a medium for multicultural exchange and social responsibility by:

-Screening quality mainstream, independent, and foreign films, and opera and theatre productions captured live from world stages

-Offering field trips, medial literacy workshops, and classes in filmmaking and animation

-Contributing to the economic and cultural development of the community
-Presenting curated series and festivals with guest speakers

As a cultural center, The Plaza attracts tourism. Many out-of-town patrons who come to see a film or take a class also shop at neighboring businesses and dine at local restaurants. Media Arts classes provide creative outlets for children and teens. Field trips, media literacy workshops, and professional development classes for teachers create a vital synergy between education and the arts. As a community-supported organization, The Plaza is a safe, inclusive, and equitable public forum for various community groups, individuals, artists, musicians, filmmakers, and non-profit advocacy groups to connect, collaborate, discuss, and support each other, particularly when facing life's ups and downs.

For more information on the Voices Rising Film Festival, please visit

https://filmfreeway.com/LoveWinsFestival

For more information on The Plaza Cinema & Media Arts Center, please visit:

http://www.plazamac.org
Jaret Martino
Stronger Than Pretty LLC
+1 424-279-4802
email us here
Love Wins Film Festival 2023 Lineup


Originally published at https://www.einpresswire.com/article/633782393/love-wins-international-film-festival-returns-to-the-plaza-cinema-during-pride-2023