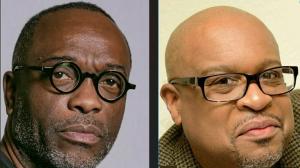 A Union District Films Production
WASHINGTON, DISTRICT OF COLUMBIA, USA, October 30, 2023 /EINPresswire.com/ — Comedy has always been central to the entertainment business in the Washington DC, Maryland and Virginia areas known collectively as the DMV. Now, it's about to be bigger and better because it's "Time to Laugh".
Coming on the heels of the biggest laugh fest in the city in years, "Because They're Funny", the new "Time to Laugh" is a weekly, live comedy show that will feature some of the most talented, side-splitting, up-and-coming comedians from around the DMV and beyond, with surprising cameos by some of the superstars in comedy.
"Time to Laugh" is the brainchild of Russell Webster, founder and executive producer of Union District Films and comedy kingmaker, Bob Sumner.
Well-known for creating hit shows, Def Comedy Jam and Laff Mobb Laugh Tracks, Bob Sumner is also famous for finding incredible, superstar comedic talent such as Bernie Mac, Bill Bellamy, Mo'Nique, Chris Tucker, DC's own Dave Chappelle and so many more. Now he's bringing that gift to DC and "Time to Laugh". "We're getting ready to make some magic here in the DC area", Sumner states. "The city is the mecca for live comedy. So this effort is a great opportunity to not only showcase veteran standup comedians but the new up-and-coming talent as well."
Russell Webster is also no stranger to the world of comedy, having conceived and executive produced the first sitcom produced entirely on location in the heart of Washington, DC, "Union". With a mix of well-known talent and those whose stars are on the rise, "Union", is the story of a multi-generational family whose issues and antics are told with comedic flair. Shot on location at Webster's popular DC restaurant, Union District Oyster Bar, which will also be the home for "Time to Laugh". "Bob and I have been colleagues and collaborators for several years," says Webster. "This new platform for comedians is a great opportunity in terms of exposure and bringing excellence to the world of standup comedy."
Get ready DMV and the world, it's "Time to Laugh".
Website – www.uniondistrictfilms.com
Angelo Ellerbee
Double XXposure Media Relations
+1 201-224-6570
[email protected]
Visit us on social media:
Facebook
Twitter
LinkedIn
Instagram
YouTube


Originally published at https://www.einpresswire.com/article/665198722/live-comedy-coming-to-the-dmv-area-time-to-laugh