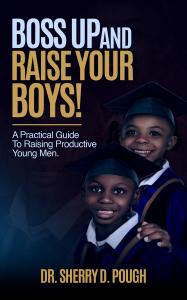 ORANGE CITY, FL, UNITED STATES, October 28, 2023 /EINPresswire.com/ — In a powerful and timely release, Dr. Sherry Pough presents "Boss Up and Raise Your Boys," a comprehensive guide aimed at parents, caregivers, educators, and mentors dedicated to empowering the next generation of black boys. This groundbreaking book is set to hit shelves on October 28, 2023.
In a world where the journey from boyhood to manhood is often fraught with challenges, "Boss Up and Raise Your Boys" serves as a compelling call to action. Dr. Sherry Pough's work is not just a guide; it's an exploration of strategies and a celebration of the immense potential residing within each young black man.
Book Summary:

"Boss Up and Raise Your Boys" provides a blueprint for those who believe in the potential of every black boy to thrive. Dr. Sherry takes readers on a transformative journey of empowerment and growth, offering practical insights for parents and mentors. The book is a celebration of the extraordinary potential that lies within each young black man, urging

readers to join in the collective effort to nurture the next generation of leaders, thinkers, and change-makers.
About the Author:

Dr. Sherry Pough, a Diamond Life member of Zeta Phi Beta Sorority, Incorporated, business owner, mentor to teens, devoted mother, loving wife, proud grandmother, and an amazing friend, brings a wealth of experience to her work. Her leadership roles in corporate America, coupled with her transition to a career focused on education and youth support, uniquely position her as a guide for parents navigating the complexities of raising black boys. As an educator, advocate for youth, and the mother of two successful black men, Dr. Sherry's real-life experiences have granted her a unique perspective on how the world operates and treats individuals from diverse backgrounds. "Boss Up and Raise Your Boys" is a testament to her commitment to providing parents with a blueprint for raising children equipped and empowered to carry on their parents' legacy.
This book is more than a guide; it's a movement towards creating a future where every black boy can thrive. Join Dr. Sherry Pough on this journey of empowerment and transformation. "Boss Up and Raise Your Boys" will be available on Amazon Kindle, Barnes & Noble in Ebook, paperback, and hardcover nationwide on October 28, 2023
Book Link: https://a.co/d/0WwGLC9
Dr Dherry D. Pough
AMZ Kindle Direct Publishing
[email protected]
Originally published at https://www.einpresswire.com/article/664847077/empowering-guide-for-raising-black-boys-boss-up-and-raise-your-boys-by-dr-sherry-pough