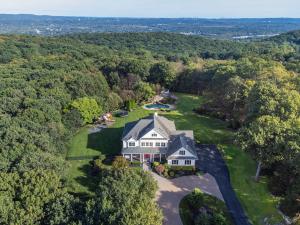 Boulders Run Estate: A VIP Haven of Luxury and Privacy, Enveloping Celebrities in Star-Worthy Seclusion near NYC.
It's a privilege to own a slice of this enchanting paradise that promises the best of convenience and nature while ensuring the preservation of privacy."
— Diana E
KINNELON, NJ, UNITED STATES, August 17, 2023/EINPresswire.com/ — Boulders Run Estate: An Enclave of Luxury, Privacy, and Star-Studded Appeal for Celebrities and VIPs
Nestled atop a tranquil mountaintop, Boulders Run Estate offers an unmatched haven for celebrities, VIPs, and discerning individuals seeking unparalleled luxury living. Located only 30 minutes away from New York City and MetLife Stadium, this private estate offers luxury, privacy, and an attractive appeal.
Privileged Oasis in Nature's Embrace
Spanning 6.96 acres, Boulders Run Estate delivers exclusivity and tranquility, while offering residents the utmost privacy. Beautiful panoramic views showcase stunning sunrises and sunsets, creating an impressive backdrop that enhances the estate's magnificence.
Elevated Luxury Fit for the Elite
Enter this impressive architectural creation to uncover a highly sought-after refuge. With 5 bedrooms and 6 bathrooms sprawled across four levels, every detail emanates sophistication. From the 2-story entry to the gourmet kitchen, opulence resonates throughout.
A Playground of Refined Leisure
Beyond its walls, Boulders Run Estate transforms into a playground of leisure and luxury. The Gunite pool, adorned with a mesmerizing waterfall, entices on warm days. Sprawling patio, playground, state-of-the-art gym, and rejuvenating steam room.
An Adventure Awaits
On-site hiking and ATV trails beckon adventure seekers to explore the estate's untamed beauty. Discover untouched natural wonder within Boulders Run Estate's landscapes.
Where Celebrities Find Solace
New Jersey is home to luminaries like Springsteen, Queen Latifah, and Jon Bon Jovi. Boulders Run Estate is a symbol of status and taste. This enclave promises camaraderie with those who appreciate its allure.
Exclusivity and Proximity United
Merely 30 minutes from NYC, MetLife Stadium, and a private airport, Boulders Run Estate seamlessly offers exclusivity and accessibility. Uncovering the best of both worlds while safeguarding privacy that is Boulders Run Estate.
Investment in Unrivaled Luxury
Boulders Run Estate provides luxurious living that goes beyond the ordinary, thanks to its remarkable location, views, and amenities. It welcomes you to embrace an exceptional lifestyle.
Embrace the Dream Today
Immerse in Boulders Run Estate's world. Schedule a VIP tour to explore its craftsmanship, vistas, and unparalleled lifestyle.
For details and glimpses of Boulders Run Estate, visit www.BouldersRun.com
About Boulders Run Estate:
Elevating luxury living through opulence and nature's embrace, Boulders Run Estate offers panoramic views, unrivaled privacy, and prestigious amenities. With a roster of New Jersey celebrities, this estate appeals to privacy-conscious individuals valuing the finest living experience.
Diana Enciso
Boulders Run
+1 973-750-8414
email us here
Outdoor Tour Denise Drive Home – Woodland Acreage – Tour Property
Originally published at https://www.einpresswire.com/article/649927115/boulders-run-estate-a-haven-of-luxury-privacy-and-star-studded-appeal-for-celebrities-and-vips