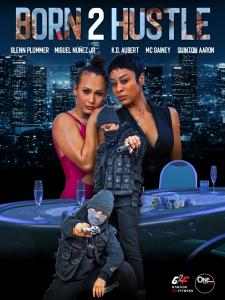 With an amazing lineup that includes acting royalty Quinton Aaron, Glenn Plummer, Miguel Nunez Jr, KD Aubert, MC Gainey and Carlo Mendes an all-star cast.
Producer Curtis long track record for making successful movies as well as managing musical artists made the decision to team up on this project an easy one!"
— Gregg Sharp-Producer
HOLLYWOOD , CA , UNITED STATES , May 3, 2023/EINPresswire.com/ — A long list of talented actors, Born2Hustle is set to keep you glued to the screen and wondering what comes next. The movie follows three sexy, cunning, and money driven sisters as they work their way through the education of the streets! Love will be gained, love will be lost, family will be tested and the three will find out the old adage about honor amongst thieves all this while working on their PHD in "The Streets of LA".
Producer Curtis Elerson of One Shot Films welcomed Gregg Sharp of G2F Film and Television Productions into his trilogy vision to team up to produce the first of three in the Born2Hustle Trilogy. "B2H is not for the soft or weak, it will make you rethink about how you are living.." states Elerson, it will grab and hold you tight and not let go until its time to rethink!"
"When there is excellent communication and a similar mind set for success it creates for terrific working relationships and quality movies!"
Trae Ireland, of Sony Screen Gems and acting talent, took the lead as the Director of Born2Hustle and showed the amazing talent that he possesses in front and behind the camera.
"Having a seasoned talent such as Trae leading the vision was the glue that brought this movie to the finish line.." echo'd both Sharp and Elerson, "…his hard work never stopped from first table read through fine cut editing. He is a true professional"
With part one now ready to be released both Sharp and Elerson have already started to look at the story line, casting and direction of a sequel.

The movie story line that gets all the unanswered questions in the original film will slowly unveil in a to be continued feature setting everyone up for the final edition.
The release date of Born2Hustle on TubiTV will be announced this summer 2023.
TheWoodPr
LaDamaPR
email us here


Originally published at https://www.einpresswire.com/article/631383622/born2hustle-getting-set-to-release-this-summer-g2f-film-and-television-productions-with-one-shot-film-productions