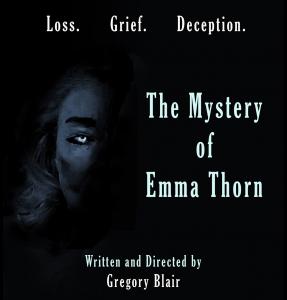 HOLLYWOOD, CA, UNITED STATES, May 17, 2023/EINPresswire.com/ — Indie filmmaker Gregory Blair and Pix/See Productions have announced their newest project: "The Mystery of Emma Thorn"—a mystery/drama about a woman who's disappeared and the husband and son left to unravel how and why. This will be the third feature for Blair and his production company, having previously created two award-laden features: the psychological thriller "Deadly Revisions" and the comedy/horror "Garden Party Massacre".
"This script wrote itself, in a way," Blair reveals. "I originally thought I was going to write a more traditional mystery/thriller/horror sort of thing, but as I began writing, the characters led me down a more emotional path. Their connection, their love, their family dynamics and their grief all came out so strongly, they turned the film into something much more heartfelt and moving than I had planned. It's now not just a mystery; it's an emotional journey about loss, love and the causes and costs of lies."
In the film, beloved wife and mother Emma Thorn has gone missing. Husband Ari and son Casper work with a police detective to try to find her. But the circumstances under which Emma left are puzzling. And Casper suspects Ari is haunted by something more than his wife's absence. Bit by bit, the truth comes out, leading to a heartbreaking discovery.
"I'm excited to do something new," Blair admits. "'Deadly Revisions' was a moody, brooding psychological horror film and 'Garden Party Massacre' was a silly comedy horror spoof. Very different styles and moods, but both very plot-driven. 'The Mystery of Emma Thorn' is extremely character-driven; the thing that takes hold is what the characters are feeling, what they're expressing…and what they're not expressing. As much as Emma's disappearance is the titular mystery, what's going on inside the husband she left behind is just as intriguing a mystery and, in fact, the two mysteries are intertwined in a very unexpected way."
"The Mystery of Emma Thorn" is set to launch a crowdfunding campaign on Indiegogo this July. To stay informed about that, casting and more, follow the official web page at https://www.2writers.com/TheMysteryofEmmaThorn.htm
Gregory Blair
PixSee Productions
+1 310-529-6555
email us here
Visit us on social media:
Facebook


Originally published at https://www.einpresswire.com/article/634095934/award-winning-writer-director-gregory-blair-to-helm-the-mystery-of-emma-thorn