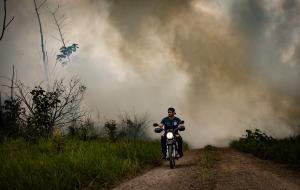 Paul tends to an injured Rhino in Rwanda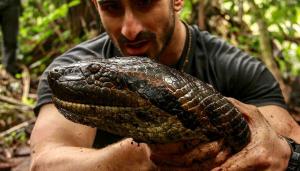 Paul handles a dangerous python
Conservationist, adventurer, and author Paul Rosolie to star in new TV series, the Junglekeepers, produced by Michael Holstein and The Content Farm
WASHINGTON, DC, USA, May 24, 2023/EINPresswire.com/ — Emmy Award-winning TV producer, Michael Holstein believes his new series, The Junglekeepers, starring famed environmentalist Paul Rosolie, will help save the world — and entertain millions along the way. Rosolie, often referred to as the "Indiana Jones of the Amazon", is a naturalist, conservationist, and swashbuckling explorer with a taste for danger and a passion for saving the Earth's wild places and their inhabitants. Rosolie's mission – and that of the series – is to save the planet before its too late, sounding the alarm for how fast we are losing biodiversity, decimating animal species, and burning jungles, "leaving no future for humanity."
The Junglekeepers will be available worldwide, with distribution discussions ongoing with notable premium streaming platforms and cable networks. On each one-hour episode of The Junglekeepers, Rosolie will welcome that week's newest guest conservationist – a CEO, A-list celebrity, philanthropist, head of state, or other dignitary – then, together with his team of world-renowned guides, vets, conservationists, security forces, and more, they will tackle a mission head-on: saving elephants in Kenya, battling wildfires in the Amazon, infiltrating rhino poachers in the Congo, and countless other journeys – all aimed at stopping or slowing this existential threat. Holstein said, "this series will be real, raw, unflinchingly honest – and, with an amazing cast and unique audience engagement component – unlike anything else on television. It's an absolute game changer at a time when one is needed."
Rosolie, who captivates the attention of hundreds of thousands on his Instagram feed, where a typical day often includes wrestling anacondas, saving rhinos, befriending elephants, and hanging with butterflies, frogs, and monkeys never before seen by most humans said, "in order to illustrate what we stand to lose, I want to demonstrate what an incredible, beautiful, and exciting world we live in. This will be an expedition, a personal journey, and a great adventure across the globe. It also needs to drive home the urgency and brutality of what is happening to animals and places right now. This is a journey that can get very dark – at times devastating and always catalyzing – but it is also fun, exciting, and inspiring."
The deck for The Junglekeepers — featuring episodes and a small sample of the incredible talent attached to the project — is now readily available (https://bit.ly/JKDeck) and a thrilling sizzle reel is available on special request.
—

PAUL ROSOLIE has lived to tell the tale of how he survived contracting a fatal tropical disease, wrestled jaguars, and was eaten alive by an anaconda. He is the author of the novel, The Girl and the Tiger, and his memoir, Mother of God, which was hailed by Jane Goodall as "gripping," and called "awe inspiring" by Bear Grylls. Rosolie is the founder and director of Junglekeepers, a Peruvian NGO that protects over 50,000 acres of threatened rainforest on the Las Piedras River, Peru. He has appeared on countless TV shows, been the subject of award-winning documentaries, and his conservation writing has appeared in National Geographic, The Huffington Post, and The Guardian.
MICHAEL HOLSTEIN began his career writing on HBO's The Wire and working in marketing on films such as The Rock and Independence Day. Holstein next went on to oversee hundreds of shows, including In Performance at the White House, The PBS NewsHour, Finding Your Roots and the documentaries of Ken Burns. Later, as President and Chief Content Officer for The Content Farm, he was in charge of developing, curating, directing, and producing award-winning content for cable, digital, and linear TV including NBC, Netflix, Bravo, Ovation, National Geographic, PBS, and the Travel Channel. Among many honors, his series Live at 9:30 was shortlisted for a Producer's Guild Award; his film, Soccer in the City won awards and was selected for numerous festivals; and in 2019 he received the Mayor's Arts Award for Excellence in Media Arts (the highest honor Washington DC bestows on media producers). Holstein is a regularly featured lecturer at Georgetown University, American University, UCLA, and The University of Miami (where he was communications major), and is a member of the Producer's Guild of America, the Grammys, and the National Academy of Television Arts & Sciences. Samples of his video work can be found at https://vimeo.com/thecontentfarmtv, and he can be reached at [email protected].
Meryl Moss
Meryl Moss Media
+1 203-226-0199
[email protected]
Visit us on social media:
Twitter
Instagram
Other


Originally published at https://www.einpresswire.com/article/634531243/a-star-studded-tv-series-that-can-help-save-the-planet