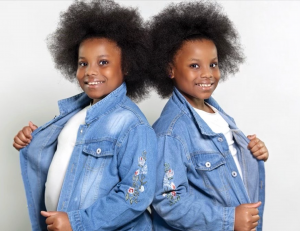 11-Year-Old Twin Clark Sisters Deliver New Track and Music Video With Message for Living Your Best Life
We want people to know that at any age, you can actually live your dreams."
— The Twin Clark Sisters
UNITED STATES, July 18, 2023/EINPresswire.com/ — Eleven-year-old "Twin Clark Sisters" have just recorded their first inspirational single entitled "Living Our Best Life" and are proud to officially announce the release of the accompanying new music video.
The Twin Clark Sisters; Harmani and Symphani are best known for their anointed Spirit-filled singing and Praise-Dancing. The twins are not only singers, but also self-taught musicians, actresses, dancers, and models. "Living Our Best Life" may be their first release, but it comes with an incredibly powerful message. "Living Our Best Life" hugs the viewer in a wave of hope and encouragement as it delivers a straight-talking message about putting in the work, and never giving up.
The harmonic flow is unexpected given the age of the artists, but this musically gifted dynamic duo is sure to put a smile on your face. "Our music video is full of fun, full of energy, just us living our best life. We wanted to inspire everyone that watches."
The Twin Clark Sisters have been immersed in music as the daughters of talented gospel artist and actress, Angela Clark. The girls grew up going to their mother's shows, watching her on stage in plays, and even singing with her band at events. The girls explain; "We love music. And our mom has always been our inspiration and motivation when it comes to singing and playing music. We wanted to be just like her."
The sisters were asked about the meaning of their first song and music video; "We wanted to inspire other kids, to never give up on their dreams. We always dreamed of recording our own song and creating a music video and our mom helped to make that dream come true. Dream big and work hard… when you do, you can do anything. And most of all, never give up never quit -just keep pushing. The most important message in our music is that it's not just for children, but for all ages. If you dream big work hard you can be whatever you want to be and do whatever you want to do and don't ever quit or give up.nOur mom is a hard-working, single mom and we see how hard she works to get us everything that we need and want, and how she shows us that we can live our best life. We have what a lot of kids in a two-parent household have, so we are definitely living our best life.
When asked what is next for the young artists; "Right now we have some performances coming up to perform our new single. We are doing a lot of performances with singing, dancing, and modeling too. Most of the places we go to perform we're singing, ballads or love songs, and we sing to instrumentals, or we play the keyboard or piano. We have some praise-dancing events coming up and a few fashion shows, and we're also filming too. We also want to learn how to play the harp.
"We hope people enjoy "Living Our Best Life". We want people to know that at any age, you can actually live your dreams. Like our mom always says; don't be a dream chaser but be a dreamcatcher. Dream big, work hard, and never ever give up… live your best life, because you only get one." – Twin Clark Sisters
The Twin Clark Sisters encourage fans to subscribe to their page and follow them on Facebook to stay tuned for what's coming next. "Tune in to us live on Facebook live at our mother's page; Angela Clark, and on our page The Twin Clark Sisters https://www.facebook.com/people/The-Twin-Clark-Sisters/100063645296050/?mibextid=LQQJ4d and on YouTube; The Twin Clark Sisters https://www.youtube.com/@angelaqueen5876."
.
"Share our video with your friends, kids, and grandkids, and enjoy the song!
-Twin Clark Sisters
https://youtu.be/IwDf2CRPZUc
Rive Music Video Team
Rive Video
+ +1 908-601-1409
email us here
Visit us on social media:
Facebook
Twitter
LinkedIn
Instagram
"LIVING OUR BEST LIFE" BY The Twin Clark Sisters'(Official Music Video)


Originally published at https://www.einpresswire.com/article/644800485/11-year-old-twin-clark-sisters-unveil-secret-to-living-your-best-life