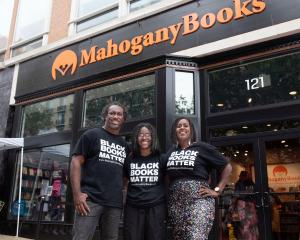 Derrick, Mahogany and Ramunda Young, Co-founders and Co-owner of MahoganyBooks
White House reporter April Ryan signs books at TheGoods@DCA grand opening with MahoganyBooks.
ARLINGTON, VIRGINA, UNITED STATES, September 11, 2023/EINPresswire.com/ — Travelers passing through the bustling Reagan National Airport now have another exciting reason to stop and explore. MahoganyBooks, a renowned bookstore committed to promoting Black literature and culture, is a partner with The Goods@DCA, a new and innovative airport retail store located near Terminal D at the DCA National Airport. MahoganyBooks bookstore showcases a hand-picked selection of titles that range from timeless classics to contemporary gems, all authored by Black writers. This collection is a tribute to diversity, culture, and the power of literature to elevate the airport shopping experience. A special ribbon-cutting event took place to mark the grand opening ceremony on September 7th. Acclaimed author, journalist, and White House Correspondent for the Grio, April Ryan signed books at the event.
"Our goal is to transform the airport experience by providing travelers with an opportunity to engage with thought-provoking and culturally significant literature," said Ramunda Young, co-founder and co-owner of MahoganyBooks. "Expanding the MahoganyBooks footprint represents our commitment to promoting diverse voices and stories that resonate with our customers."
"What sets this collection apart is its uniqueness within the airport retail landscape," said Juanita Britton, affectionately known as BZB, the visionary entrepreneur behind The Goods@DCA. "Many of the featured titles are not commonly found in airport stores worldwide, making this a rare opportunity for travelers to explore and acquire works that celebrate African American culture and creativity."
About MahoganyBooks

Started in 2007 by husband and wife Derrick and Ramunda Young, MahoganyBooks has one of the largest online inventories of books for and about people of the African Diaspora. It has grown from being exclusively an online bookstore to opening the doors of its first physical location in the historic Washington, DC neighborhood of Anacostia in 2014, then its flagship location at National Harbor, Prince George's County, Maryland, in 2021. Founders of Black Books Matter Day, Derrick and Ramuda's love for culture, community, and connection and their desire to see books empower others as it had empowered them. Over the years, MahoganyBooks has connected readers to writers for exciting and thought-provoking literary events with the likes of President Barack Obama, the late U.S. Representative John Lewis, Walter Mosley, Chimamanda Adichie, Ta-Nehisi Coates, Misty Copeland, Gabrielle Union, and D.C.'s "Mayor for Life" Marion Barry among others.
For media inquiries and further information, please contact:

BlueJay Media

[email protected]

Website: www.mahoganybooks.com
Kellie Didigu
BlueJay Media
+1 202-509-2659
email us here
Visit us on social media:
Facebook
Twitter
Instagram
YouTube


Originally published at https://www.einpresswire.com/article/655011783/mahoganybooks-partners-with-airport-retailer-to-offer-collection-of-black-books-to-travelers-at-reagan-national-airport