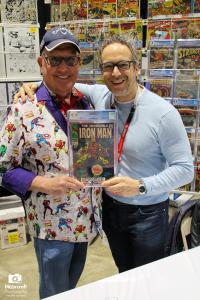 Minneapolis retired investment advisor knew a great investment when he saw it.
Longtime comic book fans have always known that Iron Man is one of Marvel's most complex and fascinating heroes."
— Vincent Zurzolo, president of Comic Connect
NEW YORK, NEW YORK, UNITED STATES, May 8, 2023/EINPresswire.com/ — As a kid, Larry Litt of Minneapolis, a self-described "lifelong comic fan," often took the bus downtown to his local comic shop, where he would stock up on the latest releases at 12 cents a pop.
One day, the shop owner gave him some advice: "Bag and board and store them well, and one day when you get to be my age, they will be worth a lot." The advice stuck.
Litt went on to a career as an investment adviser and, besides stocks and bonds, he invested in comics. And…he was able to buy an Iron Man #1.
"I love Iron Man," he said. "This is my second #1. I was able to sell the first one for a nice profit and wanted to replace it. I saw a really nice copy again and I bought it."
Now the highly collectible book is again hitting the auction market at ComicConnect.com with a potential six-figure sales price. "I've done well with price appreciation," Litt said, in something of an understatement.
Vincent Zurzolo, CEO of ComicConnect.com, the premier online marketplace for comic books and pop culture collectibles, said an Iron Man #1 in 9.9 condition (mint), as graded by Certified Guaranty Company (CGC), is a rare find.
"In over 23 years of CGC-graded comics, this is only the third copy ever graded a 9.9," he said.
Iron Man first appeared in Tales of Suspense #39 in 1963, but didn't get his own Marvel title until May 1968.
"When Stan Lee devised Iron Man, he sought to create a hero that embodied all the things that his young readership rebelled against," Zurzolo said. "Thus was born Tony Stark, a shamelessly capitalist millionaire playboy whose fortune was built on war machinery and weaponry."
Iron Man's first solo outing was a smash hit among comics readers, but the superhero exploded in popularity with the release of the movie "Iron Man" in 2008.
"Robert Downey Jr.'s star turn catapulted the character from perennial B-lister to A-list superhero status right up there with Superman, Batman and Spider-Man," Zurzolo said. "But longtime comics fans have always known that this is one of Marvel's most complex and fascinating heroes."
ComicConnect sold a copy of Iron Man #1 in 2013 for $95,000. Zurzolo said he expects it could double or triple that price as demand for rare comics has exploded over the last 10 years.
"Having recently retired, being so fortunate as to get the third 9.9 in the world and now auctioning it at ComicConnect is really appealing," Litt said. "I'm not a 9.9 must-have collector, but this was an iron-clad investment I couldn't pass up."
He added that he is friends with Bob Layton, the well known comic book artist who played a large role in shaping the persona of Iron Man. "I have many coveted pieces from him," Litt said. "Comic books and especially their backstories are fascinating to me."
The auction begins May 15 and runs through June 5-9. For more information about the auction, visit ComicConnect.com.
Joanne Levine
Lekas & Levine PR
[email protected]
Visit us on social media:
Facebook
Twitter
YouTube


Originally published at https://www.einpresswire.com/article/632475802/iron-man-1-comic-book-in-mint-condition-hits-auction-may-15th-at-www-comicconnect-com