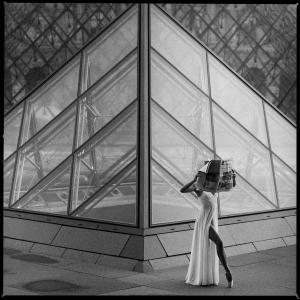 David Teran's "Hasselblad Ballet" Kickstarter nears its funding goal. This analog photo project captures global ballet stars, aiming for a unique fine art book
I'm overwhelmed with gratitude for the incredible support the 'Hasselblad Ballet' Kickstarter has received -I am honored that people around the world believe in this project and want to see it succeed"
— David Teran
SAN ANTONIO, TX, US, September 8, 2023/EINPresswire.com/ — Fine art photographer David Teran announced he is delighted with the progress of the Kickstarter campaign for "Hasselblad Ballet," a compelling analog photography project that celebrates the grace and elegance of ballerinas worldwide.
With less than two weeks left in the all-or-nothing campaign, "Hasselblad Ballet" has shown remarkable success, securing 64% of its funding goal. This project, which will culminate in a stunning fine art book showcasing over 250 mesmerizing photographs, has already resonated with over 145 backers from around the globe.
At the heart of this endeavor is David's unique approach to photography. Using the iconic Hasselblad 500CM camera, David captures the essence of ballet in an unorthodox manner, going beyond simple documentation to create a captivating portrait of each ballerina. His dedication to the analog nature of this project shines through in every photograph, where he captures each moment using a single roll of Ilford HP5+ film per photo shoot.
"I'm overwhelmed with gratitude for the incredible support the 'Hasselblad Ballet' Kickstarter has received," says David Teran. "I am honored that people around the world believe in this project and want to see it succeed."
This exquisite coffee table book features over 100 extraordinary ballerinas photographed in 53 cities across 19 countries, presenting ballet in a refreshingly unique and whimsical light. David has collaborated with renowned ballerinas, including cover girl Isabella Boylston, and principal dancers from celebrated ballet companies such as the American Ballet Theater, Paris Opera Ballet, San Francisco Ballet, The Royal Danish Ballet, Dutch National Ballet, and many others.
To capture these images, David has logged an incredible 350,000 miles in travel. Throughout this project's evolution, David produced 3,360 images, all meticulously crafted from 280 rolls of film. From this vast collection, he has carefully curated close to 250 final images, each frame serving as a tribute to his desire to honor both the art of analog photography and ballet.
The artistic direction of "Hasselblad Ballet" is helmed by Sofiane Sylve, the Artistic Director of Ballet San Antonio. She ensures the highest honor is given to the art form, contributing invaluable insights to this exceptional project.
As the campaign enters its final stretch, supporters have the chance to help bring this artistic journey to life by visiting the official Kickstarter page: https://www.kickstarter.com/projects/davidteran/hasselblad-ballet-fine-art-book?ref=9lnymh.
The Kickstarter campaign will run until September 20, 2023, offering exclusive rewards and an opportunity to be part of "Hasselblad Ballet's" enchanting journey. Find out more at hasselbladballet.com
Jordan Lee
The PR Group
email us here
Originally published at https://www.einpresswire.com/article/654333060/fine-art-photography-showcase-hasselblad-ballet-kickstarter-dances-close-to-its-goal-nearing-its-grand-finale