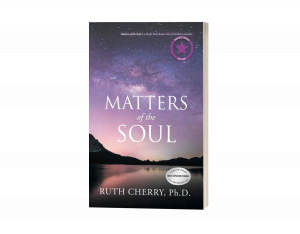 Ruth Cherry, Ph.D. writes a self-help workbook FOR EVERYONE
TORONTO, ONTARIO, CANADA, May 11, 2023/EINPresswire.com/ — Matters of the Soul by Ruth Cherry, Ph.D. guides readers deeply inside themselves. Without judgment readers learn to practice a passionate attitude of acceptance, co-creating, and trust for life's guidance.
Matters of the Soul teaches readers to look at their minds' distortions, not to unconsciously identify with them. Our minds are not the wisest part of who we are. With Ruth's guidance the reader can gently move into a wisdom that already exists at her center, but a wisdom she can't access intellectually.
Pages of journaling prompts lead the reader through her shadowy inner world. As she experiences the healing power of journal writing, she naturally aligns with her own wisdom and guidance. Then she trusts that life is guiding her in precisely her own terms. She can benefit from everything that happens, whether she likes it or not because she identifies with her essence not with a need to control out of fear. Then she welcomes each day as an opportunity.
This book is about that process, about being willing to look at what is—both within and around ourselves without judgment—and to say, Yes.
Dianne R., an Amazon customer, highly recommends Matters of the Soul. "The way Ms. Cherry integrates her knowledge of psychology and spirituality is brilliant—in a way I have never seen or heard anyone explain before. It is presented in such a way that is clear and easily understandable with case studies that illustrate her teachings. Truly, this is an enjoyable read."
Ruth Cherry Ph.D., a clinical psychologist, specializes in the merging of psychological and spiritual dynamics. In her eight books she explains how one's outer world reflects her inner world. Her website is https://www.ruthcherryphd.com/. All her books are available from Bookside Press.
About Bookside Press:
Bringing stories and ideas to life, one tap at a time.
Bookside Press is all about creating buzz in the digital world. Buzz that'll have each vital message be heard loud and clear. Headquartered in Canada, this hybrid publishing and advertising company aims to share the magic of its authors' books with the world. With a dedicated team of creatives and marketing professionals, Bookside Press collaborates with clients in building better brands that stand out and reach greater heights.
EMMANUEL LAGUARDIA
Bookside Press
6473309992 ext.
email us here
Visit us on social media:
Facebook
Twitter
Instagram
YouTube


Originally published at https://www.einpresswire.com/article/633187056/matters-of-the-soul-offers-readers-a-growth-experience-in-both-a-psychological-and-a-spiritual-context