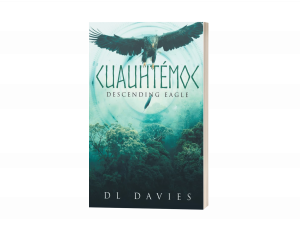 Join D.L. Davies on a thrilling adventure back to late 1400's and witness the epic battle of the last Aztec Emperor against the Pirates
TORONTO, ONTARIO, CANADA, May 12, 2023/EINPresswire.com/ — D. L. Davies' Cuauhtémoc: Descending Eagle takes readers on a journey beyond the confines of the world, presenting a fascinating literary fiction that immerses readers in a charmingly intricate and vividly detailed alternate reality.
Published by Bookside Press in 2022, this captivating book is the first installment in a series of four by Davies. This series is about a boy with a kind heart who learns to fly and eventually becomes a powerful ruler. The story begins with the birth of 'Cuauhtémoc'; which in the old tongue means 'descending eagle'.
Davies' creative storytelling and finesse are evident throughout the book, as noted by The Moving Words Review, which lauded the author's impeccable hold over his craft. The story's hook is introduced early on and keeps readers intrigued throughout. Blueink Review also praised Davies' "impressive novel" and how he "excels in three areas: his vivid descriptions of jungle and village life; his characterizations… and his natural-sounding dialogue, perhaps the most difficult task for an aspiring author".
Davies' passion for storytelling and his interest in tales of other times and places, as well as alternate worlds and realities, led to the creation of Cuauhtémoc: Descending Eagle. Davies spent six years in the army, stationed in Germany in the mid-70s, and his early years were marked by frequent moves. He has a variety of hobbies, including fishing, hiking, and photography, but creating stories in his head is his favorite pastime.
For those seeking an engaging literary fiction that transports them to a different world, Cuauhtémoc: Descending Eagle is available for purchase on Amazon, Barnes and Noble, and other book depositories worldwide.
About Bookside Press:
Bringing stories and ideas to life, one tap at a time.
Bookside Press is all about creating buzz in the digital world. Buzz that'll have each vital message be heard loud and clear. Headquartered in Canada, this hybrid publishing and advertising company aims to share the magic of its authors' books with the world. With a dedicated team of creatives and marketing professionals, Bookside Press collaborates with clients in building better brands that stand out and reach greater heights.

EMMANUEL LAGUARDIA
Bookside Press
+1 877-741-8091
email us here
Visit us on social media:
Facebook
Twitter
Instagram
YouTube


Originally published at https://www.einpresswire.com/article/633238331/cuauht-moc-descending-eagle-by-indie-author-d-l-davies-takes-readers-on-an-epic-historical-journey