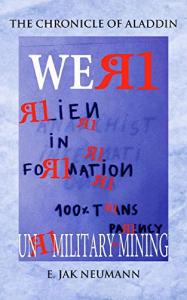 TOMAH, WISCONSIN, USA, July 27, 2023/EINPresswire.com/ — ABOUT THE BOOK
This book is born online as a reaction to journalism. It centers Aladdin on storytelling a mirror to political alter ego. Who sees the government as the magic lamp? When is becoming King more important than conquering the Princess's heart? Who is writing the story of the Genie? Takes an ancient God of satire to explain why Aladdin never asked the Genie to find Jesus. An intuitive expression of mathematics is music. It harmonizes understanding when it is improvised. Discover the news written by creative artists.
ABOUT THE AUTHOR
Eduard is a creative saxophonist who wrote this baffling book as a satire manual that includes an ancient God and a true revolution. As a child, he taped on a Russian machine jammed music programs on short waves from Radio Free Euro and Voice of America. Twenty years later in Transylvania, he found it limited the radio of his gigging van to one tune on long waves called Romania Regional. In the 80s Eduard promoted American jazz on unknown radio on ultra-waves. The saxophonist did a solo run in the 2014 general elections. He made no compromise and received no help. The 250,000 signatures form remained almost blank. These articles document the position of a journalist. What he had gained as they did not vote him president.
Eduard had his previous promotional activities at Smithson Folk Life Fest 99. He also had a TV Interview on Spotlight Network with Logan Crawford, https://www.youtube.com/watch?v=gI7nuJld6ro. You may check his website eduardjakneumann.wordpress.com. You may also check his book on Amazon with this link, https://a.co/d/hEt3e88.
Luna Harrington
Prime Seven Media
+1 414-882-5318
email us here
Visit us on social media:
Facebook
Twitter
Spotlight on E Jak Neumann


Originally published at https://www.einpresswire.com/article/640941012/chronicles-of-aladdin-by-eduard-jak-neumann