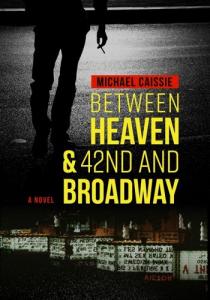 PLYMOUTH, MA, USA, May 22, 2023/EINPresswire.com/ — Screenwriter and author Michael Caissie will take readers to the dark underbelly of 1970's Manhattan in his debut novel, "Between Heaven & 42nd and Broadway," scheduled for release by Briley & Baxter Publications May 30. In Caissie's suspenseful thriller, war veteran Paul Stevenson is thrust into a world of sex, crime and drugs after blood splatters from a fellow subway rider and thousands of dollars' worth of cocaine fall to his feet.
Caissie, an accomplished screenwriter, producer and director, created the work of fiction during the pandemic, turning to a new medium that allowed for a dark and edgy tale told through a third person narration. Caissie called the creation of the novel therapeutic, as it was originally created as a screenplay and personal project before ultimately becoming his first novel.
"Between Heaven and 42nd and Broadway" takes place mostly around The Deuce in New York City in the late 70's. Caissie spent countless hours researching this unique period of the city's history.
"It is my hope that fans of gritty tales will gravitate to this novel, following Paul as he faces the dark shadows of organized crime and learning some interesting historical facts along the way," said Caissie.
Now available for pre-order
"Between Heaven & 42nd and Broadway" is available for pre-order at Amazon, Barnes & Noble, and the Briley & Baxter Publications Bookstore. It will be released to the public May 30, 2023.
About the Author
Born and raised in Massachusetts, Michael Caissie studied business at Boston College, before moving to California to pursue screenwriting and directing, where he has written and directed such films as NO TEARS IN HELL, a feature film based on the true story of the Siberian Ripper, along with HUNTER'S MOON, which he also produced. Michael also wrote THE DEVIL'S TRAP, starring Bruce Dern, and co-wrote HANGMAN, starring Al Pacino, Karl Urban, and Brittany Snow. In 2020 he wrote the Mexican film, SIN ORIGEN, for famed horror director, Rigoberto Castaneda. Most recently he was the co-writer for the soon-to-be-released action film THE ISLAND, starring Michael Jai White.
About Briley & Baxter Publications
Based in Plymouth, Massachusetts, Briley & Baxter Publications was founded by award-winning author Stacy Padula. Briley & Baxter Publications works with authors in a variety of genres, including non-fiction, young adult, children's, science fiction, self-help and inspirational. Their books are available through Barnes & Noble, Amazon, Target, Walmart, iTunes and other major distributors. Each month, ten percent of publishing royalties are donated to different animal rescue organizations.
Stacy O'Halloran
Briley & Baxter Publications
781-389-7299
email us here


Originally published at https://www.einpresswire.com/article/634687298/briley-baxter-publications-to-release-between-heaven-42nd-and-broadway-historical-thriller-in-1970-s-manhattan