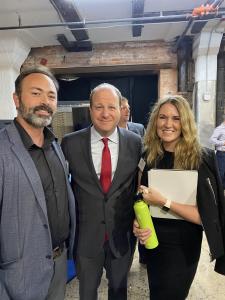 AnaKacia Shifflet spoke last October at Action 22's Annual Conference along with Colorado governor Jared Polis. She is pictured here along with her husband (left) and Governor Polis (center), who she was able to discuss long COVID issues with in detail.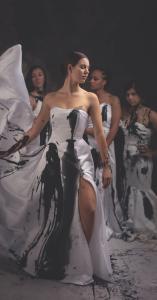 Shifflet always uses black paint first during all her "painted dress" sessions to represent the darkest and most difficult aspects of the COVID experience. Model DeAnza Banuelos is at the forefront.
Painted Dress models Brittany Osborn, DeAnza Banuelos, Aly Hummel and Fatima Stansell-Gordon pick their own color of paint to splash on each other in a fun, less serious part of the painted dress experience.
Colorado Designer Finds Unique Way To Beat Long COVID By Throwing Paint
I was struggling to navigate through this very dark place all of us were in, and I needed to clear a path through the negativity. I needed to release it somehow."
— AnaKacia Shifflet
RYE, COLORADO, UNITED STATES, October 24, 2023 /EINPresswire.com/ — Colorado Couture Designer AnaKacia Shifflet will share her many experiences coping and surviving with Long COVID in a new book she is releasing early next year. In it she details that in the depths of her despair over the shutdown, the pause of her thriving gown design business and contracting both COVID and being diagnosed later with Long COVID, she came up with a unique and creative way to fight back.
"I was struggling to navigate through this very dark place all of us were in," she explains about those trying times in early 2020, "and I needed to clear a path through the negativity. I need-ed to release it somehow."
Shifflet told her husband that she "just needed to throw something!" She decided she had to throw paint, and not just against a wall or a random piece of furniture, but at one of the beautiful white wedding gowns that she had lovingly designed and created herself.
"I wanted to start by throwing black paint on one of my best white dresses," she remembers. "I knew that so many friends, clients and business owners were through the same emotional turmoil that I was, and this added to my own pain for lost people, dreams and daily opportunities we had always taken for granted."
Shifflet wanted to channel the impulse to throw paint to have meaning and purpose, and came up with a plan that involved making a white gown from scratch – a new design — and document the process (https://www.youtube.com/watch?v=0ExmZJr3lYc). At the end, she would destroy it as a symbolic way to move past an especially dark period.
"I placed the finished dress on a mannequin and walked up to it throwing black paint," Shifflet re-calls about the first time she did a pained dress. "Every toss of black paint felt like a punch in the gut all over again. Then, I poured gold paint, representing our collective hearts as a culture, our spirits trying to be strong."
Shifflet continued with different colors of blue over the mannequin's head, and she allowed herself to feel all the emotions COVID has caused and experienced a cathartic release of her most negative feelings about the whole process.
"I cried while I tossed, poured and sprayed my creation with paint," she remembers. "It felt incred-ible, a huge release. The dress turned out to be inspiring and I found I loved it! Instead of hating it, I absolutely loved it! I had created true art and beauty from the depths of my wounded soul."
The response to her original painted dress experience (especially the YouTube video on it) led to local media coverage – KDVR Denver personality Dan Daru even threw paint on dresses with her in one segment – and fashion shows such as Expression of Tears/A COVID Story which she co-produced with Colorado Wedding Magazine in June of 2021. Eventually she was invited to key-note at a statewide public affairs conference presented by the group Action 22 in October 2022, where she shared the rostrum with Governor Jared Polis.
"The theme of this conference is 'enduring Colorado'," Shifflet told the conference. "I hope that by sharing my story, and the painted dress project, you gain a better understanding of the ongoing battle that those of us struggling with Long COVID are fighting every day."
The formal release of the book, set for March 12th, was by design to help promote International Long COVID Awareness Day on March 15th (https://pandemicpatients.org/2023/03/13/march-15-is-international-long-covid-awareness-day/). Shifflet's goal with all her painted dress activities has been to raise awareness about Long COVID and the experiences of those who have to live with it. For more information about the Painted Dress Project and the book, go to https://averilmarie.com.
Richard Matthews
MCM
+1 203-644-2328
email us here
Visit us on social media:
Facebook
Instagram
YouTube
TikTok
The First Painted Dress


Originally published at https://www.einpresswire.com/article/648526731/anakacia-shifflet-s-life-on-the-high-wire