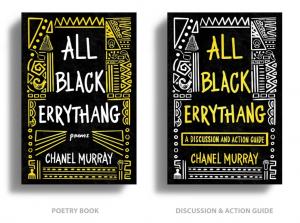 The World's Largest Library, Offering Access to the Creative Record of the United States, Accepts Thought-Provoking Book About the Black Experience
UNITED STATES, November 7, 2023 /EINPresswire.com/ — Today, in conjunction with National Family Literacy Day and the start of National Family Literacy Month, New York City-based African-American author Chanel Murray announced that the newly published poetry book set, All Black Errythang, has been added to the U.S. Library of Congress collection. The set includes a thought-provoking book of poems that capture the uniquely complex and often controversial aspects of Black life in America as well as an accompanying discussion and action guide to help readers process and engage with the content in meaningful and actionable ways.
The Library of Congress is the world's largest library, offering access to the creative record of the United States — and extensive materials from around the world — both on-site and online. It is the main research arm of the U.S. Congress and the home of the U.S. Copyright Office.
"I'm honored that our Nation's oldest federal cultural institution has accepted All Black Errythang into its collection and feel the tremendous gravity of this moment for Black history and the appreciation for works of art that celebrate Black culture," said Chanel Murray, M.Ed, All Black Errythang author and advocate for racial equity. "Black history is American history so it's not lost on me that the highest Library of our country, founded during a time when strict anti-literacy laws were enacted against Black people, has now accepted a book that challenges the status quo and perceptions of Blackness in our society."
Written as a celebration of the diversity of Blackness, All Black Errythang comprises a range of thoughts around topics from Black history to Black displacement, as well as perspectives on Black hair, names, creativity, and freedom of expression without the constraints of conformity. The author posits that Blackness is vast and can hold a plethora of powerful and inspiring experiences.
"We can exist in many different ways and that existence doesn't need to follow some predetermined set of rules, especially those rules designed to control and police our very being," said Murray. "Understanding this is foundational to our ability to feel inclusion and belonging in spaces where others aren't likely to offer those feelings."
While many of the poems take a broad look at common issues within the black community like gentrification, reparations and the impact of enslavement, some titles such as "What Else Am I" and "Black Love All Up in Your Name" take a more personal look at Murray's own challenges with race and identity. Other titles such as "The Melody in How We Speak" and "Do My Theirs Offend You" take a critical look at language and the lack of appreciation for the complexities of African-American Vernacular English (AAVE).
The accompanying All Black Errythang Discussion and Action Guide, designed for educational institutions, organizations, educators, and individuals seeking to take the conversation further, contains discussion questions and workbook space to help readers think deeply about the messaging behind the poems. It also provides action items and additional resources, including a list of Black-owned businesses and organizations, to help readers expand their knowledge, engagement, and support beyond the content of the book.
The All Black Errythang book set was also recently added to the permanent collection of the Schomburg Center for Research in Black Culture in New York City and is available for public viewing at the Schomburg Center's Jean Blackwell Huston Research and Reference Division. All Black Errythang and All Black Errythang discussion guide is also currently available online, via Amazon, eyeseeme.com and in libraries around the country.
Click below to purchase:

All Black Errythang Poems

All Black Errythang: a Discussion and Action Guide
For more information, www.flowcode.com/page/chanelmurray.
ABOUT THE AUTHOR

Chanel Murray, M.Ed, is an educator, literacy specialist, writer, and advocate for racial equity. She is the co-founder and former director of Black Gems, an empowering program that provides children and adults of the African diaspora with an opportunity to learn Black history from an African centered lens. Whether it's STEM, the arts, or education, the core of her work centers around addressing systemic barriers and creating accessible opportunities for the Black community. Her other passions include acting and supporting and collaborating with Black-owned businesses. Her newest publication, All Black Errythang is available for purchase on Amazon and eyeseeme.com, and for viewing at the Schomburg Center for Research in Black Culture in New York City and in the United States Library of Congress.
# # #

Visit the site below for more information including, links to purchase the book set and contact information:

www.flowcode.com/page/chanelmurray
ABE Press
All Black Errythang, LLC
[email protected]
All Black Errythang Book Trailer
Originally published at https://www.einpresswire.com/article/666751593/all-black-errythang-poetry-book-set-added-to-united-states-library-of-congress-collection