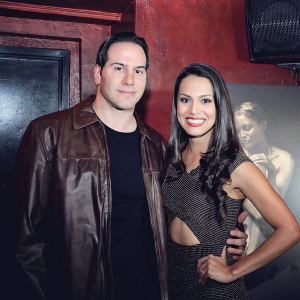 Tasara's journey, ignited by an unwavering passion for filmmaking, has manifested as an inspiring creation.
LOS ANGELES, CALIFORNIA, USA, August 28, 2023/EINPresswire.com/ — A symphony of talents converges in the work of West Coast artist Chris Tasara, a visionary writer, director, and musician whose artistic tapestry has woven itself into the hearts of audiences. Tasara's journey, ignited by an unwavering passion for filmmaking, has manifested as an inspiring creation.
Hailing from the West Coast, Tasara's insatiable love for the cinematic arts led him to pursue a Master's Degree in Film from the esteemed University of Miami. As a harbinger of his potential, this academic pursuit would later lay the foundation for his career. Post-graduation, Los Angeles became the canvas upon which Tasara's professional voyage began, marked by a relentless dedication to craft.
A shining jewel in Tasara's portfolio is the evocative boxing documentary Fortitude and Glory. An artistic trifecta as writer, director, and composer, Tasara unveils the life and wisdom of boxing sage Angelo Dundee. This documentary becomes a living testament to pugilistic prowess, weaving together intimate interviews with Angelo, two-time heavyweight champion George Foreman, and the lauded trainer Freddie Roach.
Another opus of Tasara's creation is the enigmatic supernatural crime thriller Deadline. He directed, wrote, and composed for this tour de force. The film's release on video-on-demand platforms in the spring of 2013 propelled it to international audiences by the spring of 2014. A shower of accolades, including those from the California Film Awards, the Los Angeles Movie Awards, and the Lucerne International Film Festival, affirmed its standing as a cinematic gem.
Transcending the boundaries of the silver screen, Tasara's musical notes danced into the limelight through Nickelodeon's Victorious, gracing the series with his sonic wizardry that resonated with viewers.
Tasara's creative spirit surged forth with his screenplay Warrior Spirit, etching an unforgettable narrative exploring the universe of boxing while radiating the poignant tale of a father and daughter. Paying homage to the timeless boxing film genre, Tasara infused his work with themes of resilience, determination, and tenacity. The screenplay's journey was adorned with laurels, including the Best Feature Script award from the 2020 Vegas Movie Awards and Best Screenplay Feature recognition from the 2020 Hollywood International Moving Pictures Film Festival.
Breaking new ground, Tasara ventured into digital realms with his YouTube series Dopamine. Launched in October 2020, this dynamic series bridges the worlds of entertainment, music, sports, and finance, epitomizing the essence of its namesake. A sparkling jewel in the series' crown, its inaugural episode featured none other than UFC luminary Dustin Poirier. Moreover, Tasara's artistic lens turned towards a segment focused on Wolf Connection, a sanctuary devoted to wolves, unveiling yet another facet of his creativity. https://www.youtube.com/watch?v=EIYVk69q5RE
Beyond the screen, Tasara's heart beats in rhythm with his profound commitment to animal rights. A constellation of charitable endeavors includes support for organizations such as the Humane Society, Lady Freethinker, Stray Cat Alliance, PETA, Greater Good, the Center For Biological Diversity, Cuddly, and the Animal Recovery Mission. A true embodiment of compassion, Tasara dedicated three years to volunteer work at The Animal Foundation in Las Vegas.
As the chapters of Chris Tasara's artistic odyssey continue to be etched, he is poised to redefine the horizons of creativity. With an unwavering spirit, a symphony of talents, and a heart that resonates with humanity and nature, Tasara's journey stands as a testament to the power of unbridled imagination.
For media inquiries, interviews, and collaborations, please visit chris-tasara.com
Follow Chris Tasara on social media:
Twitter: @Chris_Tasara
Instagram https://www.instagram.com/chris_tasara/
Matt Peters
Market Now
+1 973-668-8686
email us here
Visit us on social media:
Instagram
Other
Chris Tsara's YouTube series Dopamine
https://www.youtube.com/watch?v=EIYVk69q5RE


Originally published at https://www.einpresswire.com/article/652425428/west-coast-artist-chris-tasara-shines-filmmaker-musician-and-director-makes-waves-with-unique-creations