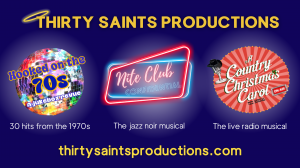 These shows are fun, fresh, and flexible for productions worldwide. We can't wait to see the creative ways theaters will produce these shows for their local audiences."
— James A. Rocco, CEO, Thirty Saints Productions
SAINT PAUL, MINNESOTA, UNITED STATES, November 1, 2023 /EINPresswire.com/ — Thirty Saints Productions, the theatrical production company behind original musicals and concerts, is thrilled to announce licensing opportunities for three of their hit shows – Hooked on the 70's, Nite Club Confidential, and A Country Christmas Carol: On Air!. These titles are now available for licensing to both professional and amateur theaters worldwide.
Hooked on the 70's is an outrageous musical romp through the sights and sounds of the 1970s. Set at a "70s A-OK" meeting, Hooked on the 70s is the place for people who rock CB radios over fancy cell phones and love the sounds of the 1970s. The show features a cast of 6 knockout performers and over 30 of the feel-good Top 40 hits from the 1970s. You'll journey through game shows, sitcoms, discos, natural highs, and the political unrest of the decade. The Associated Press said, "this show is for you" and audiences couldn't agree more. This jukebox musical is licensed in partnership with Broadway Licensing Global and was created by James A. Rocco, an award-winning director, choreographer, and theatrical consultant whose work has been seen on Broadway, off-Broadway, throughout the United States, London, Paris and Tokyo, and Albert Evans, who wrote the Off-Broadway hit Pageant which was chosen by Time Magazine as one of the year's ten best entertainment events.
Nite Club Confidential is a fast paced, seductive, jazz musical set in the 1950s. It's a world of music, neon lights, and mysterious shadows. You'll meet Kay Goodman, the stylish star who's seen better days, Buck Holden, the seductive saloon singer who manages her career, and the Hi-Hopes, a mesmerizing vocal trio with stars in their eyes. The atmosphere is as cool and crisp as a dry martini, and the music is as smooth as silk. But be warned; this dazzling world comes to a sudden halt when a shot rings out from a smoking gun.
Ken Mandlebaum, the author of Not Since Carrie, called Nite Club Confidential, "The camp masterpiece of the cabaret genre." Created by Dennis Deal, Albert Evans and James A. Rocco this intimate musical invites audiences into the world of jazz and mid-century pop music with an original score written by Deal and Evans and includes classics from the Great American Songbook. Sylvia Drake from The Los Angeles Times exclaimed Nite Club Confidential is "A show that does everything right."
A Country Christmas Carol: On Air! puts a wake-up and smell the coffee spin on the classic Dickens tale. Set in Marley County USA where folks don't have a whole lot, everybody's doing what they can to make the holiday crackle except for one mean and miserly coot who misses the entire point: Banker Scrooge. His secretary, Bobbie Jo Cratchit, is a young widow who sings like Patsy Cline and lives in a trailer community with her two young children, Jane and Tim. This live radio play is pure entertainment, filled with a brilliant bluegrass/country score with charm and humor a plenty. David Armstrong of Broadway Nation gave the show five stars.
This adaptable and audience-favorite stage musical was written by Ron Kaehler, with lyrics by Ron Kaehler and Albert Evans, and a score by Albert Evans. A Country Christmas Carol was originally produced by Lyric Theatre of Oklahoma, James Rocco Producing Artistic Director. The "On Air" concept was created by James Rocco and Jayme McDaniel.
"We are so excited to extend licensing opportunities for these fantastic musicals," said James A. Rocco, Founder and CEO of Thirty Saints Productions. "They're small cast musicals that audiences love. These shows are fun, fresh, and flexible for productions worldwide. We can't wait to see the creative ways theaters will produce these shows for their local audiences."
Theatrical organizations interested in licensing can find details and materials on the new Thirty Saints Productions website: thirtysaintsproductions.com.
About Thirty Saints Productions:

Thirty Saints Productions develops original musicals and theatrical productions. Founded by Broadway veteran James A. Rocco and known for creative concerts and shows that combine music with storytelling, Thirty Saints and their licensing agents license productions globally.
For more information on Thirty Saints Productions, visit their new website at thirtysaintsproductions.com.
James A. Rocco
Thirty Saints Productions
+1 612-217-2035
[email protected]
Visit us on social media:
Facebook
Instagram
YouTube


Originally published at https://www.einpresswire.com/article/665137999/thirty-saints-productions-announces-three-musicals-now-available-for-licensing