Garifuna International Indigenous Film Festival
SUGARLANDS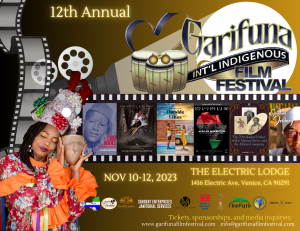 Introducing the 12th Annual Garifuna International Indigenous Film Festival (GIIFF) – Preserving and Celebrating Indigenous Cultures!
Introducing the 12th Annual Garifuna International Indigenous Film Festival (GIIFF) – Preserving and Celebrating Indigenous Cultures!
LOS ANGELES, CALIFORNIA, UNITED STATES, October 29, 2023 /EINPresswire.com/ — We are thrilled to announce the 12th Garifuna International Indigenous Film Festival (GIIFF) on November 10-12, 2023, a groundbreaking initiative dedicated to supporting and preserving the Garifuna nation and all Indigenous cultures. The Festival will be held at the Electric Lodge in Venice, California.
The Garifuna International Indigenous Film Festival (GIIFF) is dedicated to showcasing and promoting indigenous films and filmmakers from all around the world. By providing a space for their voices to be heard, GIIFF aims to bridge cultures, foster understanding, and empower indigenous communities through the power of cinema.
Founder and President of the Film Festival, Freda Sideroff, says, "The essence of our culture is lost if knowledge is not passed down to the next generation."
The Garifuna people, originating from the Caribbean Island of St. Vincent, possess a rich tradition and enduring heritage that deserves global recognition. UNESCO declared Garifuna language, dance, and music in Belize to be a "Masterpiece of the Oral and Intangible Heritage of Humanity" in 2001. The Garifuna International Indigenous Film Festival aims to bring this vibrant culture to the forefront and shed light on the struggles and triumphs of the Garifuna nation and other indigenous communities worldwide.
Princess Eulogia says, "Before experiencing the magic of the Garifuna International Indigenous Film Festival, I had never seen or heard of anything like it. It's almost like the United Nations of the film festival world! As a youth leader and advocate for change, I am proud to be a part of a historic movement."
GIIFF will feature diverse international films, documentaries, workshops, cultural presentations, and short films that center around indigenous cultures. Panels will include conversations around mental health awareness and diversity in cinema.
The GIIFF is more than just a film festival; it celebrates heritage, resilience, and the power of storytelling. Sheelah Bearfoot, a Board Member and co-leader of an Indigenous delegation at COP28 says, "The sense of unity and solidarity amongst a myriad of Indigenous cultures I feel from this festival is giving me strength and motivation to keep fighting for our futures."
The Festival kicks off on Friday, November 10, 2023, with the highly anticipated World Premiere of Lara Jacowski's thought-provoking documentary, ESKAWATA KAYAWAI. Lara will join for an exclusive Q&A session via Zoom, from Brazil. This is followed by the World Premiere of SUGARLANDS and a live Q&A session with Saladin Allah, the esteemed grandson of the legendary freedom seeker Rev. Josiah Henson. He'll share some incredible insights about the film and the profound legacy of his grandfather.
Cultural Conservation photographer and filmmaker Sej Saraiya, a member of the Board of the Film Festival, says, "The films featured at this Festival are unique and powerful. I always feel privileged to have witnessed these rare stories from the far corners of the world. The conversations that take place during the three days of this Festival are catalysts for the transformation our planet and human consciousness need."
On Saturday, the Festival will feature an exclusive VIP Experience, with the screening of AFRICAN REDEMPTION: LIFE AND LEGACY OF MARCUS GARVEY, a premiere of the short film OUTSIDE THE LINES, followed by a Q&A with renowned individuals such as Keith Robinson (known for his roles in DREAMGIRLS, FAT ALBERT, and THIS CHRISTMAS), Jermaine Williams (noted for his performances in STOMP THE YEAR, THE GREAT DEBATERS, and FAT ALBERT), and Darren Lee Campbell (famous for his role in SPIDERMAN-FAR FROM HOME). Esteemed Amazonian leader and Yanomami elder Davi Kopenawa will grace the event after the screening of MÃRI HI. This hypnotic Brazilian film guides us through the dreams of the Yanomami people.
On Sunday, the Festival will pay homage to the indigenous land we stand on with a rich lineup of Native American films showcasing their captivating storytelling traditions. Additionally, the celebration of Diwali will light up the atmosphere, immersing attendees in its vibrant colors and significance. Following these festivities, a conversation exploring the power of film as a means to challenge and dismantle colonial narratives will unfold with filmmakers Anil Urmil and Sej Saraiya, alongside accomplished writer Sheelah Bearfoot.
The music performances showcase a stellar lineup of talented individuals, including the legendary Belizean music artist Harrington Trapp, renowned singer and community leader Queen Mother Nzingha Camara and Kouman Kele West African Dance Company, and music from the Amazon. "Children of the Rainforest" will host a raffle and Amazonian market, which supports indigenous communities in the Amazon rainforest, especially members of the Moseten and Tsimani Tribes living within the Pilon Lajas Indigenous Reserve.
Journalists and content creators can use this to network and obtain new material for their platforms. We encourage everyone, regardless of background, to join us in celebrating indigenous art, traditions, and stories. GIIFF promises to be an enriching and enlightening experience that will leave you with a deeper appreciation for indigenous cultures.
Sponsorship, Donation, and Media Credential opportunities are available for this event [email protected].
and purchase tickets here: https://www.garifunafilmfestival.com
Sherry kilpatrick
GTK PR Talent Agency, LLC [us]
+1 323-400-7409
[email protected]
Visit us on social media:
Facebook
Twitter
LinkedIn
Instagram
YouTube
Other
GIIFF2022 Garifuna International Indigenous Film Festival 501c3 Non-Profit


Originally published at https://www.einpresswire.com/article/664733626/the-12th-annual-garifuna-international-indigenous-film-festival