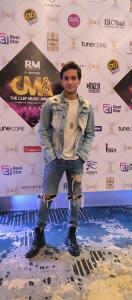 With his mesmerizing performance, Raahul Jatin proved that he is a rising star in the music industry, ready to make a mark with his unique blend of soulful melodies and heartfelt storytelling."
— Clef Music Awards
MUMBAI, MAHARASHTRA, INDIA, June 29, 2023/EINPresswire.com/ — In a night filled with enchanting melodies and exceptional performances, singer Raahul Jatin captivated the audience with his soul-stirring original songs at the Clef Music Awards 2023. Held at a prestigious venue, the event saw the presence of renowned artists, including the legendary Sonu Nigam, but it was Raahul Jatin's spellbinding performance that left an indelible mark on the hearts of the attendees.
Raahul Jatin, a talented singer-songwriter, took the stage with confidence and grace, delivering a set of his original compositions that resonated deeply with the audience. His songs, such as "Chand Mere Channa", "Humnasheen," "Aankhon ke Ishaare," and "Dhadakte Rehna," showcased his versatility and passion for music, leaving everyone awe-inspired.
The atmosphere inside the venue was electric as Raahul's soulful voice filled the air, effortlessly weaving emotions into every note. His powerful and emotive delivery combined with heartfelt lyrics touched the hearts of the listeners, creating an enchanting experience that will be remembered for years to come.
Throughout his performance, Raahul Jatin showcased his exceptional vocal range and control, effortlessly transitioning between soft, delicate melodies and powerful, soaring notes. His stage presence was captivating, drawing the audience in and creating an intimate connection with each individual.
As the crowd cheered and applauded after every song, it was evident that Raahul had struck a chord with his performance. The audience was left spellbound by the sheer artistry and depth of his original compositions. Many in the audience were seen swaying to the music, their faces reflecting a mix of emotions ranging from joy to nostalgia.
The Clef Music Awards 2023 was already a star-studded affair, but Raahul Jatin's performance added a new dimension of excellence to the event.
With his mesmerizing performance, Raahul Jatin proved that he is a rising star in the music industry, ready to make a mark with his unique blend of soulful melodies and heartfelt storytelling. As the audience applauded and cheered for his remarkable performance, it was clear that Raahul Jatin had touched their hearts and earned a special place in the music industry.
Wendy Byrde
Dazzan Entertainment
email us here
Raahul Jatin's Chand Mere Channa


Originally published at https://www.einpresswire.com/article/642016000/raahul-jatin-mesmerizes-audience-with-soulful-original-songs-at-clef-music-awards-2023