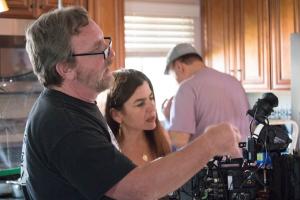 Weam Namou (writer/director) with Jamal Adams (editor) and Lindy Lenk (makeup artist / costumer designer)
Pomegranate has to date won five international awards and been nominated and selected by over a dozen film festivals!
Few, if any, films depict Americans of Middle Eastern descent in an authentic way. This award recognizes and celebrates our unique stories, with a particular focus on the experiences of women."
— Weam Namou
STERLING HEIGHTS, MICHIGAN, UNITED STATES, September 4, 2023/EINPresswire.com/ — We are thrilled to announce additional high profile international honors for Weam Namou's celebrated feature film, Pomegranate.
Namou's Pomegranate is the first Iraqi American narrative film led by a creative team from the community being portrayed, specifically a female writer/director and female leading cast. "Pomegranate" was originally a script which was selected quarter finalist by Francis Coppola's Zoetrope and was later turned into a novel and film. It's a story about a young Iraqi Muslim refugee's journey to her independence. Post-production was completed in March 2023, and the film is currently being offered to select film festivals.
The film has to date won 5 awards, including Luleå International Film Festival (Sweden), La Femme Independent Film Festival (Paris, France), and of course, New York International Women Festival. The New York Int. Women Festival is a competitive festival dedicated to film style, and female gaze in cinema. They look for a unique and innovative perspective from female filmmakers to introduce them and promote them. Regardless of a filmmaker's gender, they aim to focus on the stylistic features of cinema to see what elements have made a film significant. They encourage "films with good taste."
About the movie:
In the weeks before the election of Donald Trump in 2016, a young, politically liberal, Iraqi, Muslim immigrant struggles to find her footing in a neighborhood of well-to-do, politically conservative, Iraqi, Christians while battling her family's fears of deprivation and demands of loyalty to Muslim traditions.
Director/Writer Weam Namou worked together in association with Legendary Hollywood Executive Producer, Scott Rosenfelt, Hollywood veteran Sam Sako, and Buffalo 8 Productions (Santa Monica, CA) to produce the movie. Pomegranate, the novel, was released in February 2021 and it's available in print, eBook, and audiobook.
In addition to being selected for the prestigious La Femme festival and winning an award from Luleå International Film Festival, Pomegranate has been recognized with the following awards / selections:
* New York International Women Festival – Winner of all Categories for Best Feature Film Directed by a Woman (2023)
* La Femme Independent Film Festival (Paris, France) Winner of:
– Best Feature Film in English
– Best Original Feature Script
– Outstanding Supporting Actress (Zain Shami)
* Luleå International Film Festival (Sweden) (Winner)
* Birsamunda International Film Awards (India)- Winner for Best Actress – Sam Rahmani
* Birsamunda International Film Awards (India) – Winner for Best Feature Film on Women
* Castle Film & Media Award (Rome, Italy) (Official Selection)
* Santa Barbara International Movie Awards (Nominee)
* San Diego International Film Awards (Semi-Finalist)
* San Jose Independent Film Festival (Semi-Finalist)
* St. Louis Film Awards (Semi-Finalist)
* Prague Underground Film Festival (Semi-Finalist)
* Vancouver Independent MovieMakers Award (Semi-Finalist)
For interviews with the author / director, Weam Namou, contact
Tracy Lamourie
LAMOURIE MEDIA
Toronto : 289-788-5881
Beverly Hills : 424-444-8052
Europe / Mediterranean 356 9939 0971
Email : [email protected]
Weam Namou
Namou Productions
email us here
Visit us on social media:
Facebook
Twitter
LinkedIn
Instagram
YouTube
TikTok
Pomegranate Official Trailer


Originally published at https://www.einpresswire.com/article/653714057/pomegranate-wins-all-categories-for-a-feature-film-directed-by-a-woman-new-york-int-women-festival