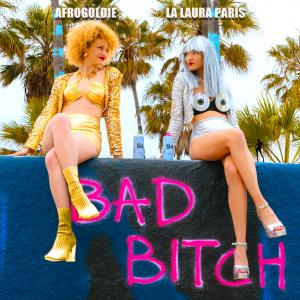 With catchy melodies, pulsating beats and undeniable charisma, Bad BITCH is a compelling and multilingual pop electro hit, blending English, French, and Italian
Bad Bitch is about embracing your inner strength and confidence, and we hope it resonates with women everywhere."
— LA Laura Paris
PARIS, FRANCE, November 5, 2023 /EINPresswire.com/ — LA Laura Paris, the sensational Belgo-French Pop electro singer and producer, joins forces with Afro-Italian singer Afrogoldie to deliver a dynamic and empowering single titled Bad Bitch.
Bad Bitch is a sonic experience that will leave audiences craving more. The song highlights the legendary analog TR303, blended with empowering lyrics will make you feel like a dancing queen.
Listen to Bad Bitch

DOWNLOAD the MP3
They will be performing in Los Angeles at Hotel ZIGGY for Studio 54 Party, on the 16th of November.
« Bad Bitch is not just a song; it's a movement, a declaration of self-worth and empowerment. We want women to feel proud of who they are and what they stand for. » – Afrogoldie
About La Laura Paris

Known as the "Glitter Queen" LA Laura Paris is a Pop Electro artist but also a Singer-Songwriter, Composer, Producer, Dancer, DJ and Film Director. She was awarded and nominated for her music videos "I'm Leaving Right Away" and "Kissing Boys".
After working with legendary French Touch producers LA Laura Paris continues to bridge the gap between Parisian Elegance to Hollywood Glamour.
A very eclectic artist, LA Laura Paris incorporates pop, rock, acoustic, electronic, disco, with influences from Martin Solveig, Pharrell Williams, Britney Spears, and Daft Punk. In addition, she has drawn inspiration from artists such as Lady Gaga, Marilyn Monroe, Elton John, David Bowie. Performing in the Queer scenes with captivating performances and evocative musical style she is known as the French Madonna.
About Afrogoldie

Afrogoldie is a multi-talented artist, singer-songwriter, and radio personality. Born in Cameroon and raised in Italy, she rose first through the fashion world.
In 2019, her solo music career took off with "Timeline" followed by the chart-topping "Love Me". Afrogoldie's music is inspired by icons like Rihanna and Doja Cat. Her story is an evolution from a cocoon of shyness to a butterfly of bravery, radiating a contagious positivity.
In 2023, she released "S.Q.U.A.T" as a Nike x Awlab brand ambassador, embodying the motto "Just do it" and recently performed as candidate at the Hapawards in Hollywood.
For high quality picture, visit our Dropbox

https://www.dropbox.com/scl/fo/bjfz8plmx5xau6aeohf5p/h?rlkey=lf0uxac0ncvh4drzr3oypn5z4&dl=0

For more info, follow LA Laura Paris and Afrogoldie on social media:

www.la-official.com

@lalauraparis

@afrogoldie_

For concert bookings and interviews: contact Creezy Courtoy: WhatsApp +33 6 59764466
Creezy
Lalauraparis Management
+33 6 59 76 44 66
[email protected]
Visit us on social media:
Instagram
YouTube
TikTok
Other
Facebook
Twitter
LinkedIn


Originally published at https://www.einpresswire.com/article/666338279/new-music-release-bad-bitch-by-la-laura-paris-and-afrogoldie