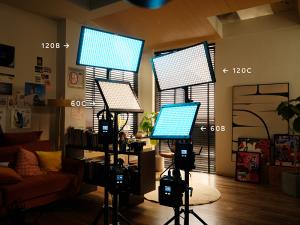 PavoSlim LED Panels: Thin, Lightweight, Bright, and Tough
WHITE PLANES, NY, UNITED STATES, November 9, 2023 /EINPresswire.com/ — A novel type of panel that offers the benefits of flexible mats without the associated drawbacks. PavoSlim LED panels are notably more compact, lightweight, powerful, and affordably priced.
Introducing two 1×1 models and two 2×1 models.

At launch, the PavoSlim collection consists of two 1×1 models: PavoSlim 60B and PavoSlim 60C, and two 2×1 models: PavoSlim 120B and PavoSlim 120C. The B versions are bi-color with a CCT range of 2700k-6500K, and the C versions are RGBWW with a CCT range of 2700K-7500K with +/-150 of G/M adjustment with built-in CRMX LumenRadio and presets for 151 filters. They all have DMX/RDM ports, Bluetooth, 2.4G, run on AC or battery, and come with a softbox, grid, and padded cases that supply protection while remaining as compact and lightweight as possible.
Super Thin, Yet Durable

The downsides of flexible mats are that the internal electronics are delicate and easy to damage from normal usage, and setting up and breaking down takes more time because frames need to be assembled and disassembled, etc. In contrast, PavoSlim is a lightweight LED panel that sets up and breaks down quickly. It's exceptionally slender, so it easily fits into tight spaces, and it's built tough to provide years of reliable service.
Noteworthy Output Power

When you compare the maximum output power of each of the four PavoSlim panels to the competition, it quickly becomes obvious that they outperform nearly everything while remaining much more attractively priced and substantially more thin, lightweight, and compact overall.
Versatile Powering Options

The Control Units that come with the 1×1 PavoSlims have battery plates for both NP-F and V-Mount batteries. The 2×1 PavoSlim models have a single V-Mount plate. They're all efficient in power draw, and compatible with 14.4-26V batteries. Durable super clamps are included with the 60C and 120C for attaching the Control Units to round or square stands, trusses, and other objects.
Secure, Coupled, and Articulating Mounts

Every PavoSlim panel features a 4-pin locking plate that confidently holds the light, and an included Universal Holder lets you easily swivel and lock the light into the exact position you need. Coupling accessories are available separately that utilize the 4-pin locking plates allowing you to combine two PavoSlim panels together to create a larger light source.
Comprehensive Control Packages

Because PavoSlim panels have separate Control Units, their intuitive onboard controls are always easy to reach, even when the heads are high up on stands. They all have locking metal DMX/RDM ports and USB ports that can power wireless DMX receivers, and PavoSlim 60C and 120C feature built-in LumenRadio CRMX. All models have Bluetooth for direct control with the NANLINK app, and 2.4G for the WS-RC-C2 handheld remote and WS-TB-1 Transmitter Box for bigger setups (both sold separately).
Pack Up Compactly

Like the lights themselves, the cases are notably space efficient while still offering good protection. There is room for all the included items, such as the super clamp, softbox, diffusions, and grid.
What's the ideal LED panel light?
It would set up and break down rapidly and be durable.

It would be lightweight for travel, storage, and use.

It would deliver bright output and dim down low.

It would fit in tight spaces and be as thin as possible.

It would always be accurate and flicker free.
It would be PavoSlim.
For more details on this and future Nanlite product news, please contact Wayne Schulman, Nanlite US Vice President at [email protected].
About Nanlite

Nanlite make a broad, versatile range of LED lights and accessories designed to help all sorts of image-makers achieve their vision. Monolights, Panels, Fresnels, Tubes, Wands, Ring Lights and Accessories
About MAC Group

35 years ago, MAC Group started as a boutique marketing, sales, and distribution group focusing on professional photographers. As the industry has evolved, so has MAC Group with their expansion into filmmaking, video, mobile, content creation, and audio. Today, MAC Group is one of the leading companies of their kind with world-renowned brands offering products and education that enhances the lives of passionate content creators at every experience level. For more information, visit MACgroupUS.com.
Ajaenae Spearman
MAC Group
email us here
Originally published at https://www.einpresswire.com/article/667154045/nanlite-launches-pavoslim-led-panels