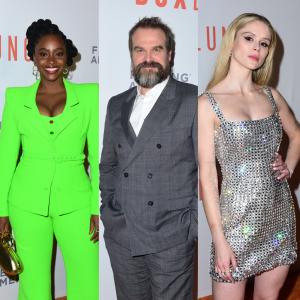 Teyonah Parris, David Harbour and Erin Moriarty arrive at the BoxLunch Holiday Gala Honoring Feeding America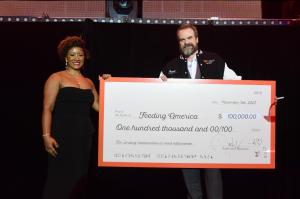 Feeeding America's Jennifer Polk and David Harbour with the signed check from David donating an additional $100,000 to Feeding America
BoxLunch Celebrates Philanthropic Partnership with Feeding America at Star-Studded Gala in Los Angeles.
LOS ANGELES, CA, UNITED STATES, November 10, 2023 /EINPresswire.com/ — The star-studded BoxLunch Holiday Gala, hosted by actor and comedian Joel McHale, celebrated the beloved pop culture retailer's philanthropic partnership with Feeding America. Held on November 9th, 2023, the gala took place at Academy LA, bringing together some of pop culture's biggest stars–David Harbour, Simu Liu, Teyonah Parris, Erin Moriarty, Anika Noni Rose, David Dastmalchian, Xochitl Gomez, Val Chmerkovskiy, Emma Caulfield Ford, Seth Green, Emily Swallow, Daniel Logan, Adam Shankman and more–together with influencers and community leaders to honor a shared commitment to fighting hunger nationwide.
The gala opened with a performance by award-winning singer/actress Anika Noni Rose, who got the crowd into the holiday spirit. Outgoing Ambassador Simu Liu (Shang-Chi and the Legend of the Ten Rings) made a surprise appearance at the top of the show as host Joel McHale took the stage. The pair joked about Simu being on crutches, with Joel alluding that it was because he had "clipped him in the parking lot and set back Shang-Chi sequel production by 9 months." Joel continued setting the tone for the evening with a humorous stand-up set that poked fun at the guests in attendance while highlighting BoxLunch's philanthropic work.
BoxLunch's unique initiative is simple yet powerful: for every $10 spent in-store or online, the retailer provides a meal to a person in need. With 245+ stores nationwide, each location contributes to its local community food bank, impacting hunger relief efforts locally. In 2023, BoxLunch celebrated a milestone of 175 million meals donated to Feeding America.
Throughout the evening, BoxLunch spotlighted the exemplary work of four Feeding America network lofood banks by presenting an award and donating $25,000 to each to use in their local communities.
– Joel McHale introduced Erika Duran, a San Diego mother of 3 who uses Feeding San Diego Food Bank to feed her children healthy and nutritious meals. She told her story and helped award Feeding San Diego with $25,000.
– Xochitl Gomez (Doctor Strange and the Multiverse of Madness) and Dancing with the Stars pro partner Val Chmerkovskiy presented the "Community Commitment" award to Sari Vatske, CEO of the Central Texas Food Bank.
– Erin Moriarty (The Boys) and David Dastmalchian (Oppenheimer) presented the "Community Impact" award to Allyson Vaulx, Assistant Vice President of Philanthropy from Feeding South Florida.
– Teyonah Parris (The Marvels) presented the "Community Outreach" award to Cassidie Bates, Government & Public Affairs Manager from Food Bank of Contra Costa & Solano
After a short interlude featuring the show-stopping magic of America's Got Talent's Kevin Li, which saw David Dastmalchian and Seth Green join Kevin on stage, outgoing BoxLunch Ambassador Simu Liu returned to the stage, passing the torch to the new BoxLunch Ambassador, David Harbour (Stranger Things). Liu presented Harbour with a matching BoxLunch Letterman Jacket to commemorate their Ambassadorship. Harbour showcased BoxLunch's unwavering commitment to making a real difference in the fight against hunger and its partnership with Feeding America. He presented Feeding America with a $100,000 donation to Chief Marketing and Digital Experience Officer, Jennifer Polk. In an act that stunned the audience, David Harbor returned to the stage after Ms Polk's speech and remarked, "This is my show, and I can't be shown up by a very handsome, much younger, talented, injured actor like Simu. I am doubling the donation!" announcing an astounding $200,000 contribution to further support Feeding America's vital mission.
The evening concluded with a second performance from Tony winner Anika Noni Rose, who closed the evening with a soulful rendition of "Grown Up Christmas List."
The BoxLunch Holiday Gala Honoring Feeding America was a celebration of the incredible strides made in philanthropy and a testament to the positive impact that can be achieved when communities unite for a common cause.
DOWNLOAD ASSETS FROM THE BOXLUNCH HOLIDAY GALA HONORING FEEDING AMERICA Photo Credits Photo by Vivien Killilea/Getty Images for BoxLunch, Video Courtesy of BoxLunch
###
For Press Inquiries regarding BoxLunch:

Paul Christensen ([email protected])
About BoxLunch

BoxLunch is a specialty retailer offering a curated collection of licensed pop culture merchandise. With every $10 spent across the retailers' themed product offering of apparel, accessories, home goods, gift and novelty, and collectibles BoxLunch will provide a meal to a person in need through its philanthropic partnerships. To join the movement and help in the fight against hunger visit BoxLunch in-store or online at www.boxlunch.com to learn more on how you can get involved in your local community. BoxLunch is headquartered in CA and currently operates over 245 stores throughout the US. For more information, please visit our e-commerce website and Facebook.com/boxlunchgifts or follow us on TikTok, Twitter and Instagram at @BoxLunchGifts.
*For every $10 spent, BoxLunch will donate at least one meal to Feeding America. $10 helps provide at least 10 meals secured by Feeding America®   on behalf of local partner food banks. BoxLunch guarantees a minimum of 5,000,000 meals (monetary equivalent of $500,000) to Feeding America and partner food banks from January 29, 2023 to February 3, 2024. Meal claim valid as of July 1, 2023 and subject to change.
About Feeding America

Feeding America® is the nation's largest domestic hunger-relief organization and, for over 40 years, has responded to the hunger crisis in America by providing food to people in need through a nationwide network of local food banks.
PAUL CHRISTENSEN
PAL PUBLIC RELATIONS
+1 949-379-0844
email us here
Originally published at https://www.einpresswire.com/article/667740298/boxlunch-gala-honoring-feeding-america-a-night-of-philanthropy-and-celebration