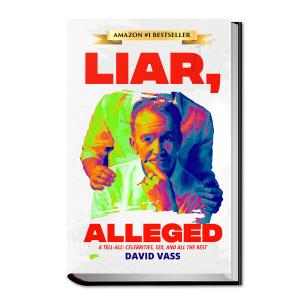 Bestselling Author, David Vass, on feedback about his controversial book, Liar, Alleged, A Tell-All: Celebrities, Sex and All the Rest
UNITED STATES, October 24, 2023 /EINPresswire.com/ — Liar Alleged, A Tell-All: Celebrities, Sex and All the Rest, has achieved over 2000 sales in its first two weeks of publication, becoming a #1 Amazon Bestseller, topping three Amazon categories.
Vass' debut release has earned "Starred Status – Get It" from Kirkus Reviews, a "Recommended Five Star Best Book Chanticleer Badge" and several other national review platforms highest rated category critiques, in addition to a solid five-star rating from readers.
Some quotes from the pros: "Entertaining, humorous, shocking, I can't believe he said that, vulgar and brilliant, at last, a book for adults – let the book burnings begin" and other noteworthy praise is being generated by this controversial mash up of a tell-all and memoir. Vass, who one reviewer describes as "imbuing the epitome of urbane", reveals secrets of the record labels, how he became a mafia money runner, and engrossing, never-before told anecdotes about legendary celebrities – Oscar, Emmy, Grammy, Golden Globe and Tony award winners, while serving as their technical director and hand-holder. In all, over one hundred world-class, often difficult personalities were kept in line by Vass, and many shared their secrets with him. He refers to this time 'on the road' with his celebutante clientele as his "homo-hobo celeb period."


Vass says, "is the current book market for grown-ups, meaning a narrative that reflects adult content and language, so sparce that my memoir stands out for its sometimes raunchy verbiage and brutal honesty? I contend the Woke Movement has morphed from its original positive purpose to yet another borderline censorship scare-tactic group, keeping some writers fearful of expressing their truths and using words of their choice. My warts and all mash-up memoir is an intense and unapologetically honest reflection on growing up broken, with a speech impediment, and no moral compass while passing through addictions, raucous sexual escapades and the breaking apart of gay stereotypes while staying the course to turn around a life lacking in self-worth. It is a cautionary tale enrobed with arch and self-deprecating humor from my unfiltered perspective. While, before the narrative begins, there are two pages of disclaimers and warnings about adult language and situations with one sentence even underlined expressing that some readers may find some dialogue vulgar…, one of the first messages I received on the book's blog was "I find your book vulgar!" I can only shake my head and laugh because, as my Epilogue says in a quote from Lord Bryon, also at the beginning of Liar, Alleged, "and if I laugh at any mortal thing, tis that I may not weep."


A laugh-out-loud page-turner, David's story is especially relevant today, given the current political backpedaling of civil liberties. He reveals his hilarious, twisted, and at times cringeworthy life from growing up as dirt-poor gay little boy in the 1950's, how he stumbled into the dangerous world of strip clubs working as a technical director in the 1960's, and eventually working the hottest clubs and iconic theatres where record labels lined up to contract him for his 'celebrity whisperer' talents and connections to the mob in the 1970's. "I'm too old to worry about ending up with a horse's head in my bed," he quips.

Vass believes there is no such thing as a politically incorrect or unusable word. "A word is a word is a word," he says. "It is how a word is used that creates its true meaning and can make it glowingly positive and reinforcing, or hateful, demeaning, and mean-spirited, or sometimes just plain old 'I can't believe he said that' dirty."
He is an accomplished monologist, performer, diarist, writer and activist, as well as the creator of the one-man play, 'What Could Go Wrong?: Musings of an Eccentric Raconteur Who Happened to be at the Right Places at the Right Times'.
Liar, Alleged by David Vass is available on Amazon and Goodreads in three formats: kindle, paperback and hardcover, with the audiobook scheduled for release in mid-November.
Jennifer Musico
Book & Author Publicity
+1 917-685-2516
email us here
Visit us on social media:
Facebook
LinkedIn
Originally published at https://www.einpresswire.com/article/663658117/bestselling-author-david-vass-on-the-use-of-adult-language-and-content-in-his-new-book