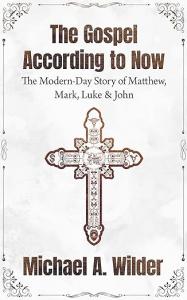 A "thrilling" modern-day story of Matthew, Mark, Luke, & John
CHICAGO, ILLINOIS, UNITED STATES, November 10, 2023 /EINPresswire.com/ — Evangelists Matthew, Mark, Luke, and John are pillars of the Christian Church — the authors of the first four chapters of the New Testament, known as the Gospels. But what if you take these powerful stories and put them in today's time on the South Side of Chicago? In "The Gospel According to Now," by author Michael A. Wilder, all four men are on a similar path with no apparent escape from their challenges, including one of them being tragically murdered – an ultimate test of their faith.

The book is in keeping with Wilder's popular style of writing, which he has coined as "movels" (a combination of movie and novel). Each chapter reads like a standalone scene in a movie, keeping the reader engaged and yearning to see what happens next. Wilder's books are intentionally written to be read in the length of time of an extended movie, 3 to 4 hours, so that readers can complete the "show" in one sitting.
One reviewer described "The Gospel According to Now" as, "A must-see movie that has not hit the movie screens yet, but certainly must!" Like Wilder's previous books, the author aims to envelop readers in a gripping story, keeping them engaged until the very end.
Other popular titles by Wilder include "The Playbook for a Dollar & a Dream" and "Jackpot! The Crazy Things You'll Do for Love and Money." "The Gospel According to Now" is available now in hardcover ($24.99), paperback ($14.99), and eBook ($3.99). All three books by Wilder can be found on Amazon.com.
Michael A. Wilder
Baldwin | Hughes Publishing Company
+1 312-291-1578
[email protected]
Originally published at https://www.einpresswire.com/article/667457763/best-selling-author-michael-a-wilder-launches-latest-book-the-gospel-according-to-now-on-amazon