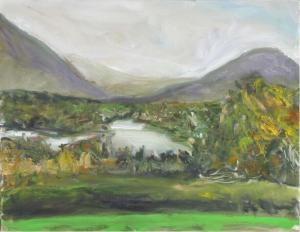 View from Tanglewood, 24×30, oil/canvas (painting by Cara London)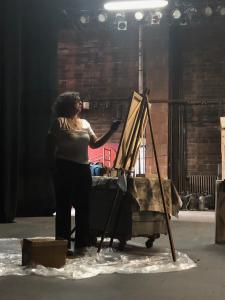 Artist Cara London painting on the stage of the historic Park Theatre in Union City, NJ, during the pandemic. She was part of a team of passionate volunteers and arts professionals restoring the theatre and the gallery spaces.
"A Good Day", a new uplifting musical to be presented by the Shawnee Playhouse from Sept. 9 – Sept 24. (Music, memory, an old flame and Alzheimer's )
Paint the sunrise in your mind. Remember music left behind. Untangle memories intertwined. Don't let the sun down.""
— Eric B. Sirota (from "A Good Day")
NEW YORK, NY, USA, September 5, 2023/EINPresswire.com/ — Artist Cara London's paintings will be featured on-stage, at The Shawnee Playhouse (Shawnee-on-Delaware, Pennsylvania) this month, in "A Good Day", an uplifting new musical about art, music and Alzheimer's. (September 9th through September 24th) This is a developmental showcase production directed by Midge McClosky. "A Good Day" is an original story by playwright/composer Eric B. Sirota, about a widowed artist who is thrust back into the life of his childhood girlfriend, his first love, his muse, a cellist who spurned him over 50 years ago, and now suffers from Alzheimer's.
Art plays an important role in the show, as the protagonist is a painter. His artwork is more than just set dressing, as some of his paintings are integral to the story. Ms. London's paintings are thus featured in this production as the work of the artist. (The playwright's hope is that future productions of "A Good Day" could be collaborations between a theatre and the local fine arts community.) In addition to 18 still life, landscape and figurative paintings, selected by set designer Marissa Rachjaibun from Ms. London's existing body of work, Cara also created three paintings for this production – portraits of the characters, specific to the performers who play them. Most of these painting will be available for purchase at the close of the production, with a portion of the proceeds going to the Alzheimer's Association.
Cara London, a New Jersey-based artist, earned a BA in Art History from Brandeis University and an MFA from Parsons School of Design. She studied sculpture at the New York Studio School and painting with John Adams Griefen, which profoundly shaped her direction as an artist. London has attended numerous international professional workshops, including Triangle Artists' Workshop, Vermont Studio School, Emma Lake the Leighton Foundation and Chateau Orquevaux, where she received the Diderot Artist-in-Residence grant. Ms. London is best known for her painterly representational work. Most recently her focus has been lyrical abstract painting, and has studied extensively with Jill Nathanson and Bruce Dorfman at the Art Students League in NYC. She was a founding member of SOMI Fine Art Gallery in Flemington, and the founder of the Gallery at the Park in Union City, NJ. She has exhibited her work regularly and is in numerous collections. She also teaches drawing and painting to students of all ages and levels of experience, and is an adjunct professor at Raritan Valley Community College. (Cara's website: https://CaraLondon.com)
Ms. London's work is not a stranger to the stage. Her painting were featured in two production of another musical, "Your Name on My Lips", at Theater for the New City in NYC in 2015 and 2017; in "A Day at the White House" at the West Village Musical Theatre Festival; and in a Schenectady Light Opera Company 2021 production of Ordinary Days, directed by Marc Christopher. Her work also appears in three films directed by Joe LoBianco: the award winning "Dinner for Two" (2021), "Skip" (upcoming), and "Frankenstein" (2023), the new musical film adaptation of Mary Shelley's novel.
The Shawnee Playhouse's production of A Good Day will feature top talent from the (NY-NJ-PA) Tri-State area. This stellar cast stars Dirk Marks as Sam, Maureen Card as Suzanna, Marissa Rachjaibun as Sophie, Erik Sparks as David, Ben Salinas as Paul, and Krista Hulsizer as Margaret. Supporting cast includes Julia Hodnik as Anne, Luke Swierczek as Michael, Laurel Cameron as Young Suzanna, Gaetano Stone as Young Sam.
The production crew for A Good Day includes a veteran team: Midge McClosky (Executive Director of The Shawnee Playhouse) is the director of this production; Todd Deen, music director and pianist,; Ethan Custard on cello; Jack Tang, choreographer; Krista Hulsizer, stage manager; Marie Steiger, assistant stage manager; Marissa Rachjaibun, set designer and scenic painter; Cara London, specialty scenic painter; Eric Uhler, Grant Wagner, and Ryan Cook in charge of set construction; and publicity materials by Samantha Cameron.
The book, music and lyrics were written by Eric B. Sirota. He has written five full-length musicals including Frankenstein, a sweeping romantic musical based on Mary Shelley's novel, which played Off-Broadway for three years, and was then adapted for screen and is now streaming on-demand. He is also an established and highly published research scientist with a PhD in Physics. His father had Alzheimer's, and in his last years, the only way to reach him was through music, singing songs he knew earlier in life. "I decided I wanted to write a musical touching on the power of music to rekindle memory and awaken the mind," said Sirota. In 2019, he was the recipient of the Denis Diderot Artists-in-Residence grant to attend the Chateau Orquevaux residency, and there he wrote "A Good Day". Early development occurred virtually during the pandemic and this past December it had a staged-reading at the Actors Temple Theatre in NYC. Last year, A Good Day was the winner of the Shawnee Playwrights Series, and it continues its development with this production.
Showtimes and dates are as follows:

2 pm: September 9th, 10th, 16th, 17th, 22nd, 23rd, and 24th

8 pm: September 9th, 16th, and 23rd

$19.00 Adult, $16.00 Senior, $13.00 Children under 17 years old
The Shawnee Playhouse is located at: 552 River Road, Shawnee On Delaware, Pennsylvania 18356
For information or to reserve tickets, please call the Shawnee Playhouse Box Office at (570) 421-5093.

For more information on show dates, times, and to purchase tickets online, please visit the website https://ShawneePlayhouse.org.
Eric B. Sirota
A Good Day (musical)
email us here
Visit us on social media:
Facebook
Instagram
Cara's paintings along with a song sung by Sam, the artist in "Your Name On My Lips", whose backstory is the basis for "A Good Day", set 50 years later.


Originally published at https://www.einpresswire.com/article/653611312/artist-cara-london-s-paintings-featured-on-stage-in-a-new-musical-about-alzheimer-s