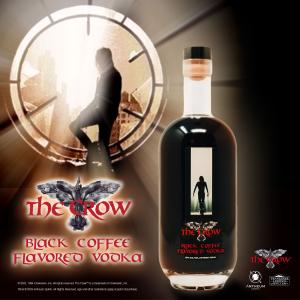 "The Crow" Black Coffee Flavored Vodka
"The Crow" Black Coffee Flavored Vodka
Antheum Spirits is thrilled to unveil its latest creation in partnership with legendary movie studio, Pressman Film: "The Crow" Black Coffee Flavored Vodka
The Crow has always captivated audiences with its unique style. This venture with Antheum Spirits is a thrilling endeavor to extend the movie's dark allure into the realm of fine spirits."
— Max Loeb, Director of Development at Pressman
NASHVILLE, TN, USA, October 30, 2023 /EINPresswire.com/ — In a spellbinding fusion of cinematic lore and rich flavor, Antheum Spirits is thrilled to unveil its latest creation in partnership with legendary movie studio, Pressman Film: "The Crow" Black Coffee Flavored Vodka. Evolution, the exclusive global agent for The Crow, brokered the deal between parties. This haunting concoction is set to enthrall fans and aficionados alike as it hits the shelves just in time for Halloween.
Known for its mastery in crafting unique spirits that resonate with the essence of iconic media franchises, Antheum Spirits continues to redefine the spirits realm. This collaboration with Pressman Film, the force behind "The Crow", symbolizes yet another venture into uncharted territories, offering a bewitching blend of robust coffee flavor intertwined with the dark, revenge-driven narrative of the movie.

​

Max Loeb, Director of Development at Pressman, expressed his enthusiasm, "The Crow has always captivated audiences with its powerful narrative and unique style. This venture with Antheum Spirits is a thrilling endeavor to extend the movie's dark allure into the realm of fine spirits. We believe that the fans of the film and connoisseurs of distinctive spirits will find this vodka a captivating experience."
"The Crow" black coffee vodka is more than a mere beverage; it's an expedition into a domain where the potent coffee core intertwines effortlessly with the somber mood of the cult classic. The pronounced aroma of freshly ground dark roast coffee beans with a whiff of smokiness beckons one into the bitter-sweet, vendetta-driven world of Eric Draven.
Available exclusively for a limited period, "The Crow" Black Coffee Flavored Vodka will be accessible on www.antheumspirits.com and at select online retailers. This Halloween, let the dark and mystical essence of "The Crow" elevate your celebrations.
For more information about this enthralling collaboration or for press inquiries, please contact:
About Antheum Spirits:

With a passion for perfection, Antheum Spirits transcends the ordinary by creating spirits that echo the legacy of world-renowned media, sports, gaming celebrity and corporate franchises. Discover more at www.antheumspirits.com
About Pressman Film:

A stalwart in the film industry, Pressman Film has been crafting cinematic masterpieces that leave an indelible mark on audiences worldwide. Their unwavering commitment to storytelling continues to inspire and captivate. https://www.pressman.com
Paul Francis
Antheum Spirits
+1 865-409-5589
[email protected]
Visit us on social media:
Facebook
Twitter
Instagram
TikTok


Originally published at https://www.einpresswire.com/article/664446934/antheum-spirits-joins-forces-with-pressman-film-to-launch-the-crow-black-coffee-flavored-vodka-this-halloween