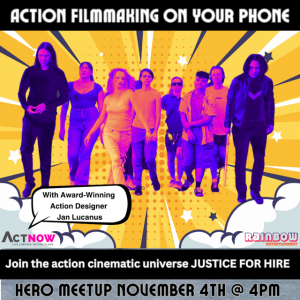 It's time to cast yourself as an action hero!
ACTNOW is LA's only Trans Led, All Queer Acting Studio. This JFH collaboration is an extension of our mission to show the industry how talented & invaluable Trans & Queer actors are!"
— Jase Alan, ACTNOW's Director of Education
NORTH HOLLYWOOD, CA, USA, October 30, 2023 /EINPresswire.com/ — ACTNOW and Justice For Hire (JFH) are pumped to announce their upcoming action filmmaking workshop on November 4, 2023 "Action Filmmaking on Your Phone." Building upon the success of their previous collaboration, which culminated in the production of two episodes of the JFH series, this immersive workshop led by the award-winning action director, Jan Lucanus, will give participants the opportunity to create their own action hero character, learn tailored action choreography, and film an epic action scene on their mobile device.
"The episodes produced at our last event proved the ACTNOW community really gets the Arrested Development meets martial arts anime tone of our Justice For Hire series," says director Jan Lucanus. "JFH asks the question, 'How do the morals and values of the superhero genre apply to the real world?' ACTNOW has the skills to explore this social commentary through meaningful comedic action." The ACTNOW episodes of Justice For Hire will be released on the JFH social media accounts this week to build excitement for Saturday's event.
The workshop is open to all skill levels, and no prior experience is necessary. Participants will bring their imagination to life as they craft their vigilante hero character, complete with costumes and backstories. Under the expert guidance of Jan Lucanus, participants will receive personalized instruction in dynamic action choreography tailored to their character's unique narrative. They will then put their newly acquired skills to the test as they collaborate with fellow participants to film an adrenaline-pumping action sequence on their phone.
The workshop will be held at the Shaolin American Self Defense Academy in North Hollywood, CA from 4:00 PM to 6:00 PM. Tickets are available for $10.00 (50% discount for ACTNOW Community with code HERO50).
This event is more than just a workshop; it's a celebration of human potential and creativity. ACTNOW and Justice For Hire are renowned for being the first cinematic universe built by a community, and they are coming together once again to empower individuals to step into the shoes of their own heroes. Participants are encouraged to bring their vigilante hero character idea (no superpowers required – think the Kick-Ass movie!) and costumes. Prepare to become part of a global community of heroes!
About ACTNOW
ACTNOW is a nonprofit organization that empowers communities to create positive change through the power of storytelling. They provide training and resources to help people develop their filmmaking skills and create stories that reflect their voices and experiences.
About Justice For Hire
Justice For Hire is a cinematic universe built by a community. It is a platform for creators to tell stories about the heroes they see in their own lives. Justice For Hire is committed to diversity and inclusion, and they strive to create stories that reflect the real world.
About Jan Lucanus
Jan Lucanus is an acclaimed action director renowned for his dedication to empowering storytellers and bringing diverse narratives to the forefront of the cinematic landscape.
About Shaolin American Self Defense Academy
The Shaolin American Self Defense Academy is a prestigious institution offering comprehensive martial arts and self-defense training, promoting discipline, confidence, and empowerment.
Lisa Malcolm
Lynk PR
+1 818-835-1783
email us here
Originally published at https://www.einpresswire.com/article/664727028/actnow-justice-for-hire-s-action-filmmaking-on-your-phone