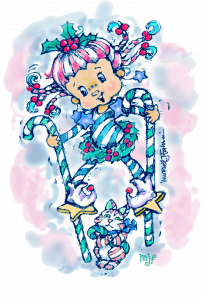 This year's theme, "Have A Holly Berry Christmas", celebrates an iconic character created by Tulsa's own Muriel Fahrion.
The characters Muriel has created over the years will come to life as they dance down the parade route. Muriel is a beloved member of our community, and we are honored to highlight her contributions."
— Jessica Gullo, Tulsa Christmas Parade Board Member
TULSA, OK, US, September 14, 2023/EINPresswire.com/ — The holiday spirit is alive and well as the much anticipated 2023 Tulsa Christmas Parade announces this year's heartwarming theme: Have a Holly Berry Christmas. This festive theme invites all to experience the enchantment of the holiday season, spreading joy and cheer throughout the streets of downtown Tulsa.
The 2023 Tulsa Christmas Parade will take place on Saturday, December 9th, 2023, at 11:00 AM. As the city gathers in excitement, the parade will treat spectators to an array of holiday-themed floats, towering balloons, spirited bands, and the beloved presence of Santa Claus himself aboard

his charming float, creating an unforgettable spectacle of a very whimsical Christmas.
Paul Ross, Vice President of American Waste Control, said, "Kenny and I are thrilled to bring back this beloved tradition of spreading Christmas joy for its 97th year. Tulsa Christmas Parade is all about celebrating with our community, and nothing fills our hearts more than the incredible marching bands. This year, we invite even more bands to join us and make the 2023 Tulsa Christmas Parade the most musical and magical one yet!"
This year's parade pays homage to the iconic character "Holly Berry," a creation by the talented artist Muriel Fahrion, who has left an undeniable mark on popular culture. Muriel Fahrion has become a cherished member of our vibrant Tulsa community. Born in Cleveland, Ohio, she embarked on a creative path that led to the birth of many beloved characters, captivating minds and hearts across generations.
Fahrion's artistic brilliance truly excelled during her time at American Greetings, where she breathed life into the beloved Strawberry Shortcake character in 1977. This groundbreaking creation marked the start of a remarkable journey, during which Fahrion's talent expanded to bring to life other cherished characters, including the endearing Care Bears and The Get Along Gang. Her artistic contributions continue to enchant and inspire people of all ages.
The parade is free and open to everyone, offering a heartwarming experience for families and friends. Make sure to mark your calendars and join us on December 9th at 11:00 AM to witness the wonder unfold in the heart of Oklahoma.
We also extend a special invitation to businesses and community groups from Tulsa and beyond to participate in this year's parade and share in the joy of the season. Parade entry applications are now open for organizations eager to be part of this unforgettable celebration. For details and applications, visit www.TulsaChristmasParade.org.
Join us as we capture the essence of the season and spread holiday cheer at the 2023 Tulsa Christmas Parade: Have a Holly Berry Christmas!
2023 TULSA CHRISTMAS PARADE SPONSORS

American Waste Control, KTUL Channel 8, ABCO Party Rentals, Barracuda Staffing, BancFirst Insurance Services, Bruckner's Truck Sales, BWI Sanitation, BPM Services, Chick-fil-A, KXOJ, Lamar Outdoor, Matheson Gas, Pine Street Auto Recyclers, Price Family Properties, Public Service Company of Oklahoma, Rambin Petroleum, Red Dog Construction, ResourceOne, Route 66 Wraps and Signs, Sherwood Construction, Stack Host, Tedford Insurance, TulsaPeople Magazine, Tulsa World, WarrenCAT, YellowHouse, American On-Site.
ABOUT THE TULSA CHRISTMAS PARADE

For almost 100 years, the Tulsa Christmas Parade has entertained thousands of families as it winds through the streets of downtown Tulsa. An annual tradition for many Oklahoma families, the Tulsa Christmas Parade, presented by American Waste Control, celebrates 97 years in Green Country.
Sarah Abbott
American Waste Control
+1 918-720-8304
email us here
Visit us on social media:
Facebook
LinkedIn
Instagram


Originally published at https://www.einpresswire.com/article/655564516/tulsa-christmas-parade-committee-announces-theme-date-and-time