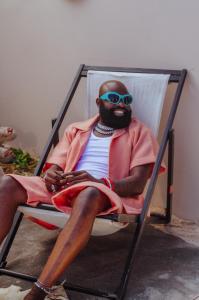 Sean Dampte captivate audiences with his latest single, "Go Low," a dynamic collaboration featuring Grammy Award-winning artiste of Ghanaian origin, Ghetto Boy
Go all the way but go well. Go all the way, do it well."
— Sean Dampte
LEKKI, LAGOS, NIGERIA, August 22, 2023/EINPresswire.com/ — Press Release
Sean Dampte and Grammy Award-Winning Artiste Ghetto Boy Collaborate on New Single "Go Low" Released on August 17, 2023
Renowned multidimensional singer Sean Dampte continues to captivate audiences with his latest single, "Go Low," a dynamic collaboration featuring Grammy Award-winning artiste of Ghanaian origin, Ghetto Boy. The eagerly awaited release took place on August 17, 2023, marking a significant milestone in the musical journey of both artistes.
"Go Low" is the latest addition to Sean Dampte's impressive catalog, which has already seen five strong releases this year. Known for his mastery of diverse musical genres and his unwavering commitment to delivering captivating tunes, Sean Dampte showcases his motivation and creative prowess in this sixth installment. The single follows a series of successful releases, including "I Dey Consider," "For My Head," "Overdose," "My Lane," and "See Finish," each contributing to his multifaceted musical narrative.
Head of Media and Strategy for Savage Music Nigeria, Oluwatosin Orisha Adesanya, disclosed, "Sean Dampte's collaboration with the Grammy Award-winning artiste Ghetto Boy further underscores his ability to seamlessly blend different rhythms and musical elements. His unique approach to music, often described by his catchphrase "Ariwo ko ni music," exemplifies his commitment to creating engaging and effortless musical experiences. This ethos extends beyond his captivating music, leaving an indelible legacy for aspiring vocalists and artists who draw inspiration from his innovative journey."
"Go Low" stands as a pinnacle in Sean Dampte's string of single releases this year, demonstrating his unparalleled ability to express boundless energy and excitement. The single not only encapsulates the growth of a vibrant musical community but also signifies the artiste's unceasing dedication to expanding his reach and spreading the joy of music beyond borders.
As fans and music enthusiasts embrace the invigorating rhythms of "Go Low," Sean Dampte continues to solidify his position as a trailblazer in the global music scene. The collaboration with Ghetto Boy adds a layer of Ghanaian finesse to the composition, further enhancing the single's appeal to a diverse audience.
With the release of "Go Low," Sean Dampte and Ghetto Boy invite listeners to embark on a rhythmic journey that transcends cultural boundaries, embracing the universal language of music.
For press inquiries, interviews, or promotional copies of "Go Low," please contact:

Orisha

Email: [email protected]
Stay Connected with Sean Dampte:

Website: www.seandampte.com

Instagram: https://instagram.com/seandampte
About Sean Dampte:

Sean Dampte, a multidimensional artist hailing from Nigeria, has consistently pushed the boundaries of creativity with his eclectic musical style. With a series of successful single releases, including "I Dey Consider," "For My Head," "Overdose," "My Lane," and "See Finish," he continues to capture the essence of diverse musical influences. His collaboration with Grammy Award-winning artiste Ghetto Boy on "Go Low" adds a new dimension to his musical journey, resonating with a global audience. Sean Dampte's unwavering commitment to innovation and artistic excellence makes him a trailblazer in the contemporary music landscape.
For Media Inquiries:

Orisha

Head of PR, Media, and Strategy

Savage Music Nigeria

Email: [email protected]

Phone: +2348137552990
Oluwatosin 'Orisha' Adesanya
SAVAGE MUSIC NIGERIA
+234 813 755 2990
email us here
Visit us on social media:
Twitter
Instagram


Originally published at https://www.einpresswire.com/article/651295105/sean-dampte-and-grammy-award-winning-artiste-ghetto-boy-collaborate-on-new-single-go-low