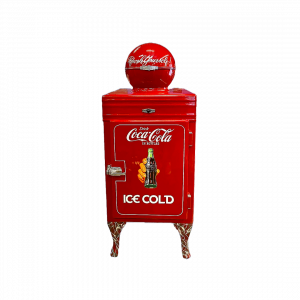 Vintage GE Monitor Top Coca-Cola Refrigerator
A Rare Collection of Vintage Coin-Operated Machines and Game Room Accessories Set to Enthrall Collectors
VIRGINIA BEACH, VA, UNITED STATES, November 2, 2023 /EINPresswire.com/ — Blue Box Auction Gallery has announced the date for its highly anticipated auction, "Nostalgic Coin-Op Classics & Game Room Accessories," set to occur on November 9th. This event highlights over a century's worth of coin-operated machines, with a catalog featuring over 100 lots. This diverse collection includes items ranging from leisure-time entertainment to nostalgic decor, reflecting the evolution of coin-operated devices throughout the years.
Among the distinguished pieces are more than thirty vintage gumball machines, each displaying a variety of designs and styles that represent different eras and aesthetics. These machines not only embody the charm of yesteryears but also serve as functional collectibles. Additionally, the auction will present six Zoltan Fortune Teller machines, infamous for their presence in American amusement arcades and their ability to offer a playful glimpse into the future, which has delighted patrons for generations.
The event also includes a collection of National Weighing Machine Coin-Operated Scales, which are not only functional items but also emblems of the bygone era when the fascination with mechanical technology was often intertwined with everyday activities. These scales epitomize the period's blend of utility and design and are sought after by collectors who appreciate mechanical ingenuity.
Further lots encompass a variety of antique cash registers from the National Cash Register Company, known for their intricate craftsmanship and durability. These registers not only recount the commercial practices of the past but are also admired for their mechanical complexity and ornate features. The auction extends to feature an eclectic mix of vintage vending machines that dispense a range of products, alongside a selection of game room accessories that are both decorative and practical.
Blue Box Auction Gallery facilitates global participation in this event, with comprehensive online bidding options and detailed shipping solutions for both domestic and international buyers. Those preferring the traditional auction atmosphere can partake in the excitement through live bidding at Blue Box Auction Gallery in Virginia Beach, ensuring a versatile and accessible auction experience.
Interested parties are encouraged to visit the gallery's website at www.BlueBoxAuction.com for additional information on the auction, including how to register and view the complete catalog. Direct inquiries to the gallery are also welcome for those seeking more personal assistance or further details about the items.
About Blue Box Auction Gallery:
Blue Box Auction Gallery, located in the coastal region of Virginia, is recognized for its expertise in the appraisal and sale of diverse assets through both live and digital auction formats. The gallery's reach extends worldwide, facilitated by its use of several auction platforms, including an innovative mobile app designed to enhance the bidding experience for remote buyers. The gallery is committed to achieving top market value for consignors while providing an exceptional selection of items to collectors and enthusiasts across the globe.
Jim Weigl
Blue Box Auction Gallery
+1 757-550-0285
email us here
Visit us on social media:
Facebook
Instagram
YouTube


Originally published at https://www.einpresswire.com/article/665926970/reviving-retro-blue-box-auction-gallery-hosts-in-person-auction-of-vintage-coin-operated-machines