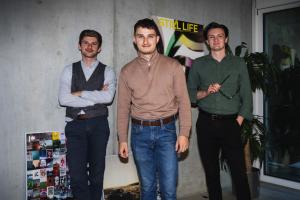 PLAKATIV.STORE, the Swiss art portal rising in popularity, has taken a decisive step towards scaling and market penetration with new shareholder partnership.
ZüRICH, SWITZERLAND, November 16, 2023 /EINPresswire.com/ — PLAKATIV.STORE – a digital platform that enables young artists to sell their works online – is reaching for new heights as the creative agency that founded the platform, [COLLECTIVE] welcome digital performance marketing agency and venture builder, R17 Ventures AG as a shareholders.
The digital platform makes art more accessible by offering artists an opportunity to sell their work by simply uploading the artwork to the portal, while PLAKATIV handles printing, shipping, marketing, and customer service, with artists earning 15% commission on each of their sold pieces.
The market growth potential for works by local artists is significant, with consistently positive resonance.
"PLAKATIV has already built a community of 4,000 enthusiastic art lovers on Instagram," says Dino Reichmuth, Project Owner of PLAKATIV from [COLLECTIVE]. There are very few comparable providers in Switzerland."
Joël Wyss, who is Head of Marketing for the platform adds, "We are proud to operate a platform that generates new interest and appreciation for physical prints – and concurrently benefits the local art scene."
Since Spring 2023, the Zurich-based agency, R17 Ventures AG, has been managing the performance marketing of the store. Lars Kienle, Co-Founder of [COLLECTIVE], says that in October 2023, the two agencies decided to intensify their partnership, which resulted in R17 acquiring a 25% stake in PLAKATIV.STORE.
Raphael Rohner from R17 Ventures AG underlines the strategic importance of the partnership: "We are contributing our expertise and experience in digital performance marketing to help PLAKATIV achieve steady, sustainable growth."
Both agencies, R17 Ventures and [COLLECTIVE], are driven by entrepreneurial spirit and the joy of assisting businesses to succeed through marketing. R17 boasts significant expertise in the development of e-commerce stores and is aiding PLAKATIV in its scaling efforts. [COLLECTIVE] complements this with branding and storytelling, thus transforming the rapidly growing business model into a strong, clearly positioned brand with a loyal community.
"With a shared vision and different focuses, we complement each other perfectly as agencies", concludes Raphael Rohner.
In celebration of Black Friday, a selection of prints will be reduced by 40% in the week of November 20th – a visit is well worthwhile.
Jono Duguid
R17 Ventures AG
+41 43 588 19 23
[email protected]
Originally published at https://www.einpresswire.com/article/668991110/plakativ-store-collective-and-r17-ventures-unlock-new-growth-market-in-the-print-sector