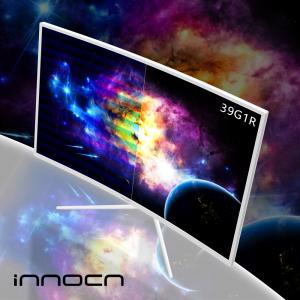 SHENZHEN, GUANGDONG , CHINA, June 7, 2023/EINPresswire.com/ — he experienced developers at Shenzhen Century Joint Innovation Technology Company Ltd. (INNOCN) have been successful at producing high-quality monitors that stand out amongst the top competitors in the industry. Every monitor that INNOCN designs is tailored to boost productivity for people all around the world.
One of the standout monitors released by INNOCN is the Ultra-wide Curved Gaming Monitor 39G1R. This 39G1R curved monitor is the perfect size for game enthusiasts looking to upgrade their play experience. For a limited time, Amazon US customers can buy this monitor at a discounted price of $419.99 (originally $449.99), while Amazon EU customers can enjoy a €170 coupon, reducing the price to €399 (DE, FR, IT, ES).

The INNOCN 39G1R is the ideal monitor to pair with the HP Pavilion TG01-1020, a powerful compact tower desktop PC that takes gameplay to unimaginable levels. With NVIDIA GeForce GTX 1650 graphics and a 10th Gen Intel Desktop Processor, the HP Pavilion TG01-1020 ensures smooth and powerful game performance and 4K visuals. The dual display support functionality allows gamers to connect the HP Pavilion TG01-1020 to the 39G1R ultra-wide monitor, offering an unrivaled gaming experience while live streaming and recording gameplay.

The 39G1R monitor offers a wide range of features that make it an exceptional choice. With its QHD 2K 2560 x 1440p resolution, this monitor ensures clear visuals, perfect for working with large spreadsheets or conducting research. With up to a 165Hz refresh rate and Freesync technology, tear-free graphics are guaranteed, providing a smooth and fluid experience even in fast-paced games. The monitor also features high-quality stereo speakers, enhancing entertainment and streaming.

Whether it's casual gaming, picture editing, or heavy work tasks, the INNOCN 39G1R monitor proves to be a reliable choice. Its exceptional value for the money makes it an attractive option for those looking to upgrade their monitor setup.
Product Links:

US: https://www.amazon.com/dp/B0B9GVCCLH

DE: https://www.amazon.de/dp/B0BFH7BZ5M

FR: https://www.amazon.fr/dp/B0BFH7BZ5M

IT: https://www.amazon.it/dp/B0BFH7BZ5M

ES: https://www.amazon.es/dp/B0BFH7BZ5M

NL: https://www.amazon.nl/dp/B0BFH7BZ5M

PL: https://www.amazon.pl/dp/B0BFH7BZ5M

SE: https://www.amazon.se/dp/B0BFH7BZ5M
Pearl Li
INNOCN
[email protected]


Originally published at https://www.einpresswire.com/article/638109345/innocn-ultra-wide-curved-monitor-39g1r-is-the-best-gaming-companion-for-the-hp-pavilion-tg01-1020