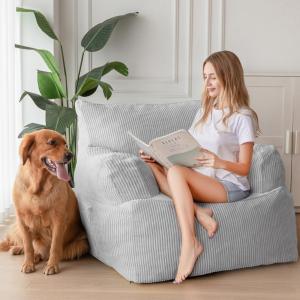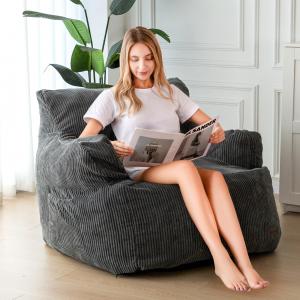 MAXYOYO Giant Bean Bag Chair, Stuffed Bean Bag Couch for Living Room, Dark Grey
MAXYOYO Giant Bean Bag Chair, Faux Fur Stuffed Bean Bag Couch, Grey
MAXYOYO's latest addition to their innovative floor lifestyle product – bean bag chair
For more information and to order MAXYOYO giant bean bag chair sofa, visit https://www.maxyoyohome.com/."
— MAXYOYO
NEW YORK, NY, US, October 25, 2023 /EINPresswire.com/ — The Home furnishings and comfort have just taken a new leap forward with the release of MAXYOYO's latest addition to their innovative floor lifestyle product – the all-new giant bean bag chair. This creation makes people's leisure experience better, relaxation, and personal style in living spaces.
MAXYOYO, known for its commitment to comfort and quality, has not disappointed with this latest offering. The giant bean bag sofa chair makes people's lifestyles more relaxed and casual. In an age where people are spending more time at home, there is an increased preference for comfortable, versatile and stylish seating. This product fulfills these requirements while adding an element of fun and flair to home decor.
Crafted for Comfort and Versatility

The MAXYOYO giant bean bag sofa is designed to provide a good relaxation experience It's made with premium materials and new technology that caters to comfort seekers of all ages. The chair is filled with high-density foam that conforms to the customer's body, offering good support and comfort.
Whether customers are watching their favorite movie, reading a book, or simply unwinding after a long day, this bean bag sofa ensures a comfortable and supportive seat. The versatile design allows customer to use it for various activities, from casual lounging to impromptu napping, making it a good addition to any room.
Style That Speaks

In addition to its incredible comfort, the MAXYOYO bean bag couch boasts a chic and stylish design that complements a range of interior aesthetics. It's available in a variety of colors and textures, enabling the customer to choose a good option to match their home decor. The customizable design ensures that the bean bag chair is a reflection of the customer's personal style.
The thoughtfully designed cover is not only stylish but also easy to clean, making it suitable for households with children or pets. Its durable fabric ensures that customers' investment will last, maintaining its beauty and comfort over time.
Unmatched Quality

MAXYOYO's products are strictly controlled, and the large lazy bean bag sofa is no exception. The materials and construction are notch, ensuring that this chair will stand the test of time. The foam is of high quality, and the cover is meticulously crafted to withstand daily use.
Safety is an important priority for MAXYOYO. The chair meets all safety standards, so customers can enjoy its comfort. MAXYOYO prides itself on creating products that are not only luxurious but also safe and durable.
Transform Customer's Space

The MAXYOYO bean bag sofa chair addition to customers' living space. Whether customers are looking to create a cozy reading nook, a comfortable gaming corner, or an inviting family movie night area, this bean bag couch can help customers achieve their vision.
Its large size and shape can comfortably accommodate adults and children alike, making it good for family gatherings or movie nights. Plus, it's easy to move and reposition, allowing the customer to change the layout of their room with ease.
Innovative Living

MAXYOYO has always been at the forefront of innovation in home furnishings. The giant bean bag sofa chair is the latest testament to their dedication to improving our everyday lives through stylish and comfortable designs. As the world changes and people spend more time at home, MAXYOYO is changing with it, providing innovative solutions that enhance the way people live and relax.
Enjoy Customers' Today

The MAXYOYO bean bag sofa chair is now available and is already generating great feedback from early customers. The satisfaction and comfort it brings are undeniable, and its innovation and affordability are also important factors.
People can enjoy the fine moments of leisure and relaxation in their own homes.
For more information and to enjoy the MAXYOYO giant bean bag chair sofa, visit https://www.maxyoyohome.com/.
About MAXYOYO:

MAXYOYO is a renowned name in the world of home furnishings, known for their commitment to quality, style, and comfort. Their products are designed to enhance the comfort and aesthetics of living spaces, creating an atmosphere of relaxation and luxury.
Max yoyo
MAXYOYO
email us here
Visit us on social media:
Facebook
Instagram
YouTube
Other
How to choose the best bean bag chair


Originally published at https://www.einpresswire.com/article/663050936/customers-enjoy-the-fine-moments-with-maxyoyo-s-latest-giant-bean-bag-chair