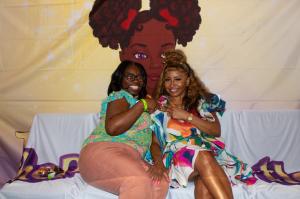 Book Cover for The Purple Turtle and Modi's Magical Adventures
This Illustrated Story Presents an Alternative View of Life Through the Lens of Imagination
In today's society, where overexposure to social media destroys the innocence of youths' innate need to explore & nurture their imaginations freely, this book intends to restore their sense of wonder."
— Tamera Fair and Tonia Evans
CHICAGO, IL, UNITED STATES, November 8, 2023 /EINPresswire.com/ — Tamera Fair and Tonia Evans announce the release of their first joint publication titled "The Purple Turtle" (published by Xlibris), a six-part children's book series designed to reignite kids' imaginations and let them escape into a world of fantasy.
In its first volume, "Modi's Magical Adventures," readers are introduced to Modi, a child who searches for the perfect pet. With the help of her mom and dad, she finds Grapie — a magical, talking purple turtle. Modi and Grapie take their friends on an exploratory journey, visiting mermaids, seahorses, unicorns, and fairies in a whimsical world that exists only for special kids the magic turtle grants permission to experience.
"The Purple Turtle" presents an alternative view of life through the lens of imagination. In today's society, where overexposure to social media destroys the innocence of youths' innate need to explore and nurture their imaginations freely, this book intends to restore their sense of wonder. Kids utilizing the imagination to heal from trauma is equivalent to learning through play. After they read this magical story, their brains will be filled with happy endorphins they can visit whenever they need or want.
"We want our adult buyers to give a hall pass or permission to let kids be kids and not miniature adults," the authors state. "We want our readers (or listeners) to utilize that hall pass whenever they feel anxious, nervous, threatened, or just want to retreat to a safe place intentionally designed for them by the characters in the book's adventures."
"The Purple Turtle: Modi's Magical Adventures"
By Tamera Fair and Tonia Evans
Hardcover | 8.5 x 8.5in | 28 pages | ISBN 9781669879770
Softcover | 8.5 x 8.5in | 28 pages | ISBN 9781669879817
E-Book | 28 pages | ISBN 9781669879824
Available at Amazon, Barnes & Noble, Target, and for purchase online. To learn more, please visit www.thepurpleturtlemodismagicaladventures.com.
About the Authors:
Tamera Fair has always had an affection for children of all ages. She launched her first early childcare facility in her early 20s. She currently owns and operates a chain of childcare centers in Chicago, is a cohost on iHeart Radio, and is an actress, producer, activist, author, and mother.
Tonia Evans was born in Mississippi but raised in Englewood, Chicago. Her passion for children led her to become a successful director at the Premier Childcare Centers located throughout the Chicagoland area. This not only allowed her to build a team of successful professionals but has allowed her to nurture this passion in her first love and son, Joshua.
Contact: With an Eye PR

Christi Love 312-451-3796

[email protected]

###
Christi Love
With an Eye PR
+1 312-451-3796
email us here
Visit us on social media:
Facebook
LinkedIn
Instagram


Originally published at https://www.einpresswire.com/article/666987079/a-series-of-magical-adventures-awaits-children-in-the-purple-turtle