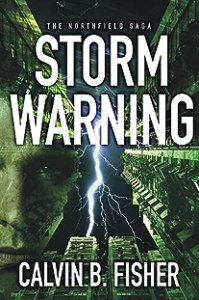 DENVER, COLORADO, UNITED STATES, August 25, 2023/EINPresswire.com/ — Author Calvin Fisher returns to the dystopian world with 'THE NORTHFIELD SAGA 3: STORM WARNING', book three of the acclaimed Northfield Saga, available now for pre-order on Amazon. Published by Headline Books and scheduled to be released September 4th, 2023, 'The Northfield Saga 3: Storm Warning' is the follow-up book to the thrilling second novel 'The Northfield Saga: Stormrise' and the debut book 'The Northfield Saga: Apocalypse Bounty'.
Promising to be an excellent sequel to an amazing series, Calvin's soon-to-be-released book will be an exciting read, a great page-turner full of nonstop action.

The sequel starts when the main characters in the saga, Mark Northfield and Geralt Salb have escaped New Medea with Stormrise, but they are far from unscathed. Geralt Salb has received grievous injuries, and his life hangs in the balance. General Arkland is determined to destroy Stormrise, and he is willing to use every tool at his disposal. He fights not merely with guns. He also employs psychological warfare. If he drives the populace to apathy, then Stormrise will have no power. Mark Northfield hopes for the light, but things only seem to grow darker. It is a battle of men, a battle of time, and a battle of wills, to secure the fate of New Medea and declare a vision for the post-apocalyptic future.
"The Northfield Saga 3: Storm Warning" explores resilience, sacrifice, and the consequences of unchecked power. It exemplifies the protagonist's optimism to find hope in the bleakest of circumstances. The book delves into the battle of human survival and the struggle for redemption. As Mark Northfield and Geralt Salb have escaped, the fate of the world hangs in the balance as they face impossible odds fight to outdo each other.
With its gripping narrative, complex characters, and relentless tension, Calvin's book will take readers on an unforgettable journey through a world on the brink, challenging them to ponder the cost of saving humanity when faced with an apocalyptic choice. Calvin Fisher has become one of the most exciting young voices in the Sci-Fi/Fantasy genre, with publications like Sci-Fi & Fantasy Magazine saying Mr. Fisher is an author to "Certainly keep an eye out for".
For media requests/ review copies of Calvin's books, please contact,
Shaili Priya
Allen Media Strategies
+1 703-589-8960
email us here
Visit us on social media:
Facebook
Twitter
LinkedIn


Originally published at https://www.einpresswire.com/article/651969235/acclaimed-sci-fi-author-calvin-fisher-s-the-northfield-saga-3-storm-warning-available-on-september-4th-from-amazon