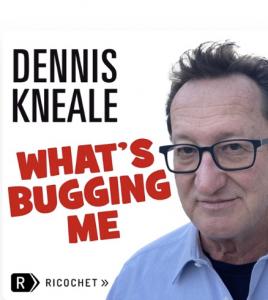 Rich Goldberg on "The Ingraham Angle"
On "What's Bugging Me," Expert Has a Warning for America
Hamas is in the United States. When you see these rallies think about who's organizing them… Hamas is behind a lot of this and that is going to come out"
— Richard Goldberg
NEW YORK, NY, UNITED STATES, November 10, 2023 /EINPresswire.com/ — As pro-Palestinian protests erupt in cities across the U.S., a former White House national security advisor tells the podcast "What's Bugging Me" a startling point: "Hamas is here."
Richard Goldberg, a former advisor to the National Security Council in the Trump administration and an expert on Iran's nuclear arms program, spoke with host Dennis Kneale on Episode 52 of "What's Bugging Me," link here. He says Iran supports Hamas, as does Qatar.
"But also understand that Hamas is here. Hamas is in the United States. When you see these rallies and you see these marches and you think about who's organizing them, who's behind them, who's paying for it, Hamas is behind a lot of this and that is going to come out," Goldberg said.
Goldberg spoke with Kneale, a media strategist and former anchor for CNBC and Fox Business Network, on Wednesday, just before Goldberg appeared with anchor Laura Ingraham on "The Ingraham Angle" on Fox News Channel (see link here).
On "What's Bugging Me" on @Ricochet, Goldberg maps out options for counter-measures in the aftermath of Hamas terrorists' murder of 1,400 people in Israel, including 34 murdered Americans. Hamas terrorists also took 240 hostages they still hold.
"Iran is, obviously, one of the primary sponsors of Hamas," Goldberg says, "in addition to Hezbollah, Islamic Jihad, the Houthis in Yemen. They provide well over $100 million a year to Hamas." He also tells Kneale:
–Hamas likely proceeded with the support and approval of its sponsors in Iran. The U.S. and Israel could take action against Iran as the world's #1 sponsor of terrorism.
–Iran currently has "active terror plots today… trying to hunt down former U.S. officials and kill them." Former Secretary of State Mike Pompeo and John Bolton, a former Trump advisor, are two of the targets, requiring 24-hour security. An Axios story reported this in August 2022, here:
https://www.axios.com/2022/08/10/iran-assassination-pompeo-bolton
–Iran is 95% of the way toward producing its own nuclear weapons. It has made alarming progress on the "assembly line" for making nukes, and it is amassing the fuel necessary to arm a bomb.
"What's Bugging Me" is available on Ricochet and on Apple Podcasts, here:
https://podcasts.apple.com/us/podcast/whats-bugging-me/id1657007934?i=10005
# # #
S. Ladouceur
Dennis Kneale Media
+1 917-933-5028
email us here
Visit us on social media:
Facebook
Twitter
LinkedIn
Instagram
Other


Originally published at https://www.einpresswire.com/article/667712120/richard-goldberg-warns-u-s-hamas-is-here