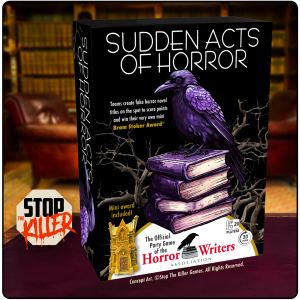 Horror Writers Association Board Game has horror fans acting out fake novel titles on the spot
We're pleased to embark on this partnership with Stop the Killer Games finding new ways to celebrate horror through games."
— Max Ian Gold
CLEVELAND , OHIO, UNITED STATES, November 2, 2023 /EINPresswire.com/ — An officially-licensed party game called "Sudden Acts of Horror" – coming in 2024 – aims to celebrate the Horror Writers Association, the oldest and most respected professional nonprofit organization in the horror genre. The game asks teams of players to act out made-up horror novel titles to score the highest points and ultimately win a mini–Bram Stoker Award® for their efforts.
Formed in the late 80s with the help of some of the field's greats such as Dean Koontz and Robert McCammon, the HWA has thousands of members in numerous countries around the world. The organization's mission is to encourage public interest in and appreciation for Horror and Dark Fantasy literature. The HWA is known for supporting the horror genre through scholarships and grant programs, organizing their yearly convention called StokerCon®, and sponsoring the annual Bram Stoker Awards®, which recognizes writers in categories for superior achievement in horror literature.
The game's publisher, Stop The Killer Games, has become a recent leader in horror-themed games for beloved slasher films such as HALLOWEEN II, MY BLOODY VALENTINE and SILENT NIGHT DEADLY NIGHT. "Sudden Acts of Horror" is their first partnership with a prestigious literary organization.
Maxwell I. Gold, Executive Director of the HWA, says, "We're pleased to embark on this partnership with Stop the Killer Games finding new ways to celebrate horror through games."
"We are howling at the moon in excitement over developing and bringing to market this charades-style game, which rewards creativity and ambition," says Anthony Masi, owner of Stop The Killer Games. "This is a game for anyone who loves the horror genre and wants to have a bloody good time with a group of friends."
"Sudden Acts of Horror" is scheduled for release in the second quarter of 2024, and will be available for purchase at www.stopthekiller.com.

For more information about the Horror Writers Association, visit https://horror.org.
According to GlobeNewswire, the board game industry is expected to reach a value of $30.93 billion by 2028.
About the Horror Writers Association

The Horror Writers Association (HWA) is a 501c3 non-profit organization founded in 1985 to promote dark literature and its creators. It hosts the prestigious Bram Stoker Awards® and offers public resources on horror, including market listings, writing tips, and more. Founded in the late 1980s, the HWA is the oldest and most respected professional organization for creators of dark literature. The HWA hosts an annual professional conference, StokerCon. HWA is also dedicated to recognizing and promoting diversity in the horror genre and practices a strict anti-harassment policy at all of its events. For more information about the Horror Writers Association and the Bram Stoker Awards® please visit: https:/horror.org

Desiree Duffy
Black Chateau
+1 213-444-1958
email us here
Visit us on social media:
Facebook
Twitter
LinkedIn
Instagram


Originally published at https://www.einpresswire.com/article/664628080/forthcoming-party-game-celebrates-35-year-old-horror-writers-association