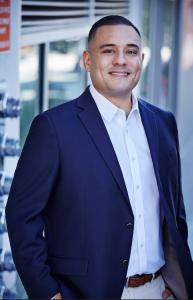 LOS ANGELES, CA, USA, September 6, 2023/EINPresswire.com/ — Emigdio M. Arias, CEO of Triumphant Mindset LLC, has united with sports legend Dick Vitale and an assembly of esteemed global professionals to co-author the highly acclaimed book, "Never Give Up." Published by SuccessBooks®, the book made its debut on August 31, 2023.
Upon its release, "Never Give Up" made waves in the literary world. Securing top spots on Amazon's coveted best seller lists. In addition, it hit #2 on the NEW RELEASE List for both the Direct Marketing and Sales & Selling categories, while also ranking #5 on the NEW RELEASE list for Entrepreneurship, solidifying its status as a must-read for aspiring entrepreneurs and marketing enthusiasts alike. With its compelling insights and unwavering spirit, "Never Give Up" has undoubtedly earned its place among the best of the best in the world of literature and motivation.
Emigdio's impactful chapter, "When A Fall Becomes A Leap," significantly contributes to the book's success. Within its pages, readers discover profound insights that offer invaluable guidance for surmounting life's challenges.
Meet Emigdio M. Arias:
Emigdio M. Arias, an Elite-Level Mindset Coach, Executive Coach, Prosperity Mentor, and Personal Transformation Thought Leader, empowers you and your organization to achieve heightened success.
As CEO of Triumphant Mindset LLC and Lead Instructor for The Talisman Society, Emigdio fuels individuals and groups on their journey from present to desired states.
For over two decades, Emigdio has cultivated leadership excellence. Utilizing NLP, Success Principles, Hypnotherapy, and Time Line Therapy®, he imparts personalized training, fostering profound insights, risk-taking, and obstacle surmounting.
A dynamic, empathetic presenter and bold communicator, he elevates communications in diverse industries. He catalyzes personal and professional growth, strengthening organizations for ambitious business objectives.
Emigdio brings a wealth of elevated expertise to the realm of transformation. As a certified Success Principles Trainer, Executive Coach, NLP Trainer, Trainer in Hypnotherapy, and Master Practitioner in Time Line Therapy®, his credentials reflect a deep commitment to honing the skills necessary to empower individuals and organizations to reach their highest potential.
He empowers individuals to embrace purpose, take full ownership of their lives, and embrace inspired action.
Get in Touch with Emigdio:
• TalismanSociety.com
• TriumphantMindset.com
• Instagram: @triumphant.mindset
Never Give Up is now available for purchase. Visit HERE to order your copy today.
SuccessBooks®
SuccessBooks®
email us here
Originally published at https://www.einpresswire.com/article/654128495/emigdio-m-arias-achieves-amazon-best-seller-status-with-never-give-up-co-authored-with-dick-vitale